Have you tried going on a Cebu Day Tour or maybe a Cebu City tour?
Day Tours are indeed one of the most fun and popular things to do when you are visiting a new place/ city.
And like most of the regions/ cities here in the Philippines, Cebu has definitely one of the most diverse day tours I have tried before. Whether you love something historical, or a little bit into nature, Cebu has some of that and more!
I have tried the Cebu Day Tour once before – several years ago. It was way back in college as part of our Educational Tour. Never mind how many years ago, though. LOL.
Just recently, my husband and I did a road trip around the city and its surrounding area. We both transferred here after graduation and been living in Cebu ever since.
I thought it would be fun to check out those places I have visited years ago with my husband as my tour buddy now. Also, my husband hadn't been in some of these places before so it was a good experience to show him around.
We were joined by my sisters on the later part of the Cebu City tour. The more the merrier, right? 😉
Some of the places that we've visited before are still there while others are pretty new. It's always a great experience to see how a city evolved through time, don't you think?
On this post, I'm going to list down several spots that you can check out when you find yourself staying in Cebu for a day or two.
There are plenty of local travel agencies that would be more than willing to take you on a Cebu City Tour. Tour rates usually starts from 1,600 Php to 2,900 Php per head.
There are also Cebu day tours within Cebu City and Mactan which starts at 430 Php per head as well as private rediscovery tours at 1300 Php per head.
Variations will depend based on your location (i.e, if you are within Mactan Area or Cebu) and the tour you will be availing (e.g half day tour or whole day). Inclusions usually are air-conditioned transportation, lunch buffet, entrance fees, tour guide/ coordinator and hotel pick-up and drop-off.
However, if you'd rather do it yourself just like we did in Coron, then read on for tips and information on how to go about with your Cebu day tour.
Please also note that the places that I will be mentioning are the usual spots that are visited and those that are accessible. The list is a combination of the old and the new – those that form part of Cebu's culture and those that are growing popular with the locals.
You may include this when planning your itinerary for the Cebu day tour!
P.S. Minimum Fare for jeepneys (the local transportation that is very common here) is at 7 Php, so the amount may vary depending on where you are coming from.
Cebu Day Tour Itinerary
Fort San Pedro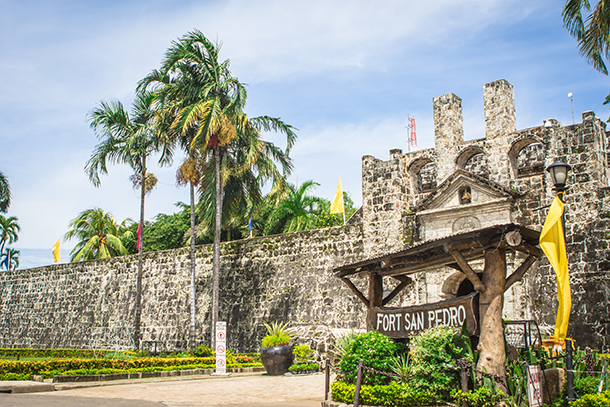 The Fort San Pedro is an old military defense structure in the Cebu. It served as a military garrison and a stronghold under the command of Miguel Lopez de Legazpi. Today, the Fort has been preserved as a museum with photos of old Cebu, artifacts and documented write-ups of the fort's history.
Fort San Pedro was our first stop during our self-guided Cebu City tour. As expected, there were several tourists already making their way inside with their own guides explaining the history of the fort.
The walls at the entrance are filled with photos and documentaries. Just stepping inside will give you an overview of the fort's history.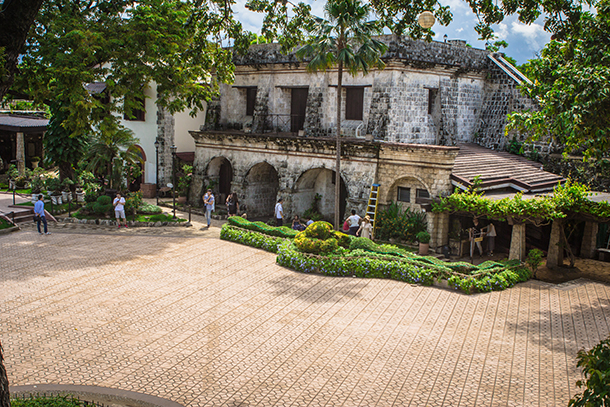 After paying the entrance fee, we headed inside to take a look inside the grounds. Admittedly, Fort San Pedro is not that spacious.
Although of course, I wouldn't be able to compare it with other similar structure as I haven't been into one before that I remember. LOL. However, according to history it is actually the oldest and the smallest fort in the Philippines.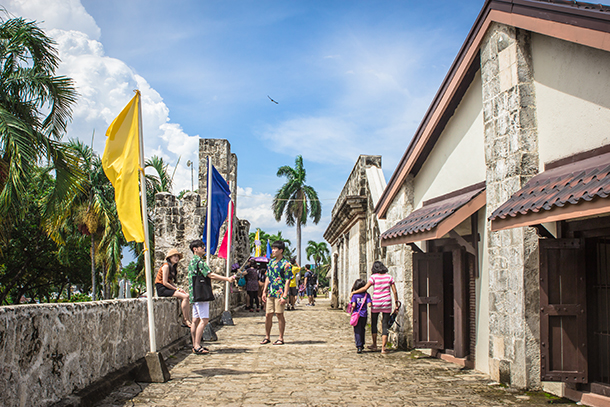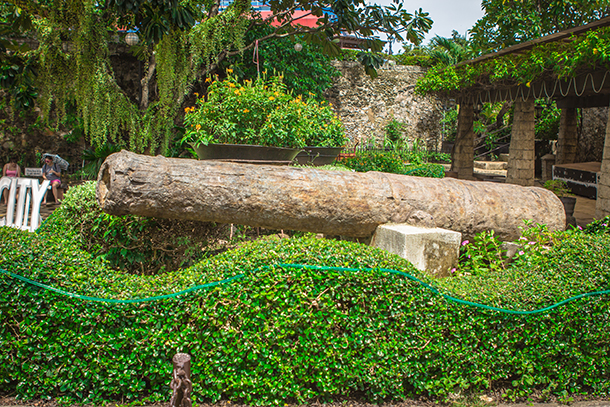 Some of the things that impressed me most was the gateway, the canons (inside and at the ramparts) and the ramparts itself.
Entrance Fee: Regular – 30 Php; Student and Children – 20 Php ; Senior Citizen – 24 Php
Location: A. Pigafetta Street, Cebu City
How to get there: Ride any PUJ (public utility jeep) that is going to any of the Pier in the city. The fort is near Pier 1, so it is best to look for jeep with signs going to Pier 1.
Magellan's Cross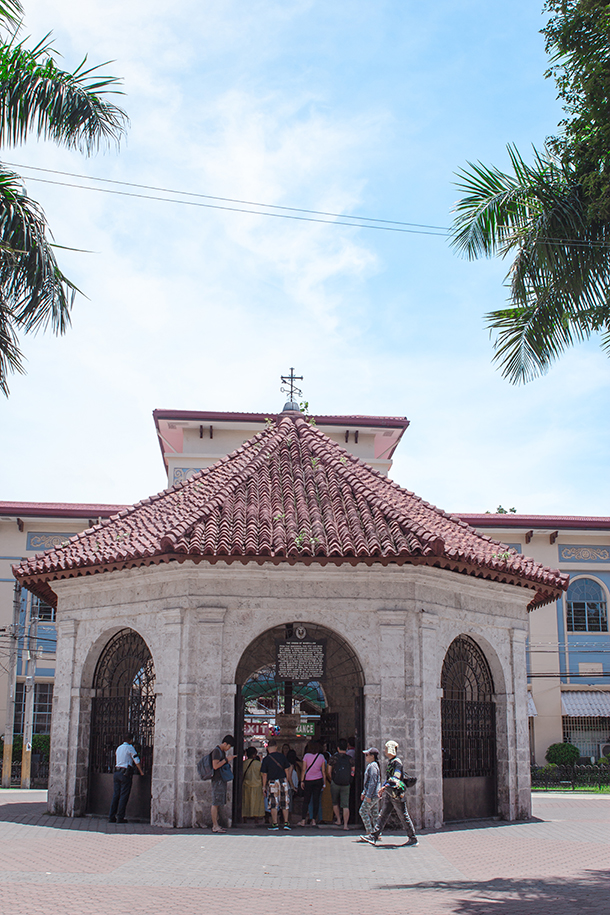 You can't really say that you've been to Cebu without visiting Magellan's Cross near the St. Nino Shrine.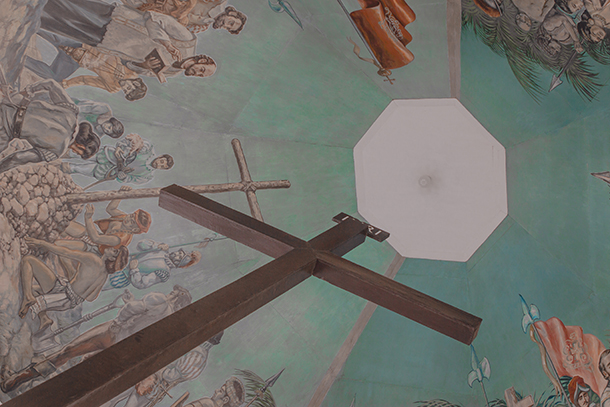 It's a landmark in the city that has a significant meaning to the people of Cebu. Magellan's cross serves as a symbol of the native's acceptance to Christianity when Ferdinand Magellan and his men arrived in the island in 1521 C.E.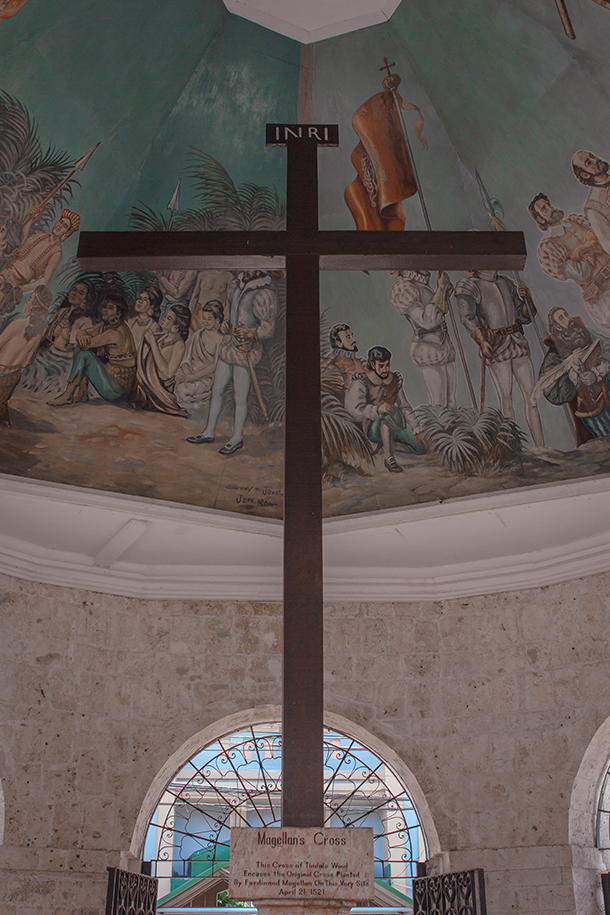 The original cross is said to be encased on a tindola wood for protection not only from the weather but also from some patrons who tried to chip away some parts of the cross for souvenirs.
There are local women who are dressed in the traditional 'baro't saya' and who sells candles near the cross, or even inside the Church. When you purchase some, the woman will then dance with the candles while saying a short prayer.
You can either place it on the makeshift grill placed strategically within the area or place it below the cross as an offering.
Entrance Fee: None
Location: Osmeña Boulevard, corner P. Burgos Street Cebu City
How to get there: Ride any PUJ (public utility jeep) that is going to Colon or Carbon. Usually jeepneys heading this way passes through Sto.Nino. If still unsure, check out the signage or ask the driver themselves.
Basílica Minore del Santo Niño
After a quick look at the Magellan's Cross on our Cebu City tour, we then headed to its next door neighbor, the Sto. Nino Church.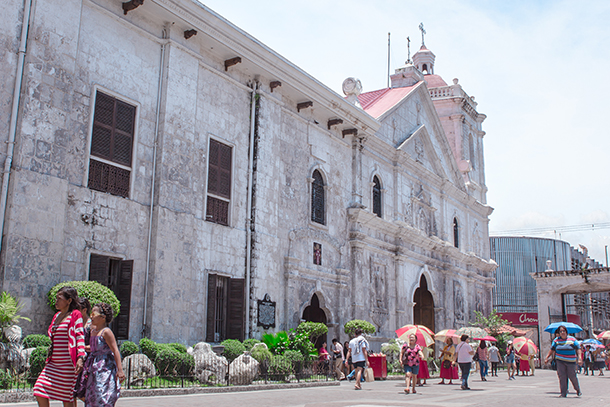 Known as the oldest Roman Catholic Church in the Philippines, the Basilica Minore del Santo Nino is an architecture marvel that you should visit.
It should be noted that the Philippines is a country where the majority of its people are Catholic. Thus a visit to some of its church within the archipelago is usually included in any itinerary.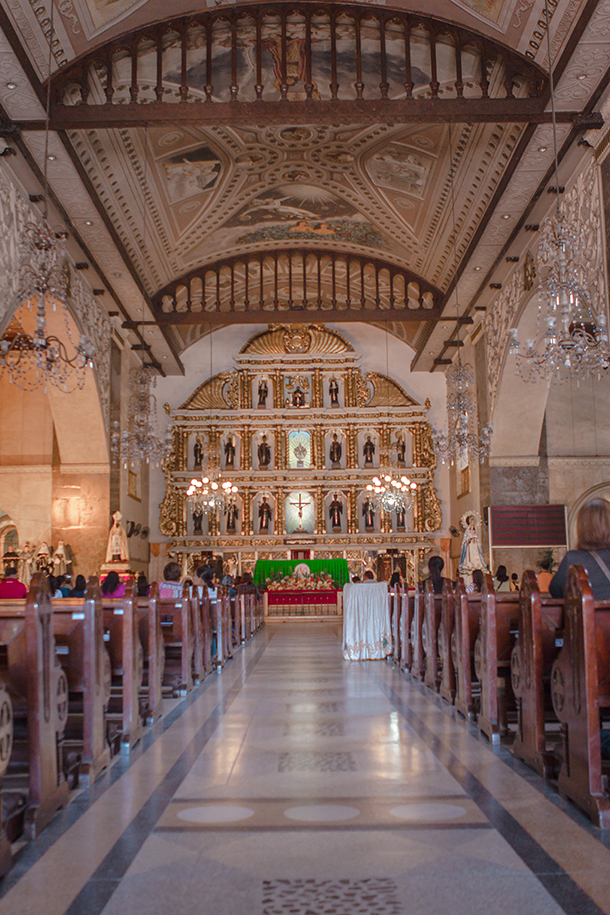 I remember visiting here when I was younger and was amazed to see devotees paying homage and a prayer to Sto. Nino, the child Jesus. Here you will catch locals waving to Sto. Nino as they leave the church.
It's like asking permission or acknowledging the Child Jesus before leaving.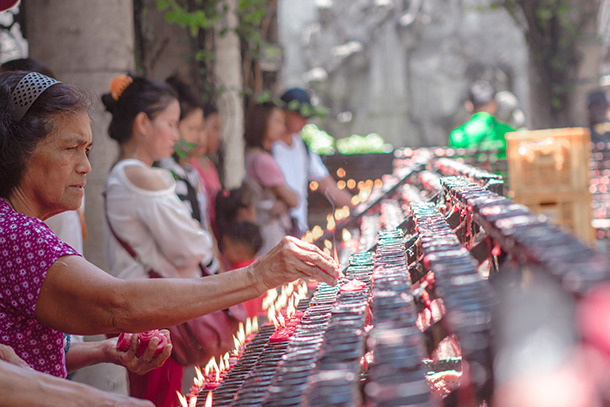 You can also light a candle or two just like the devotees.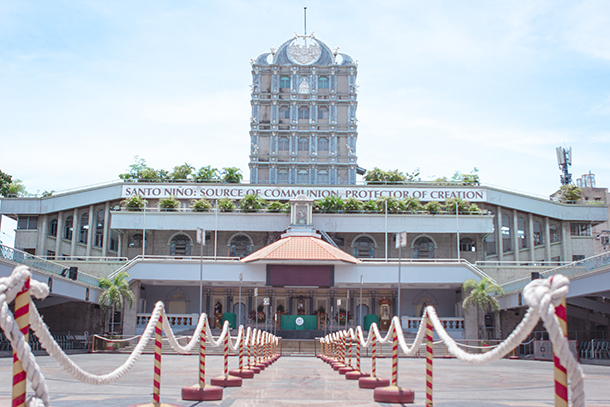 The Basilica is also one of the center of activities during the Sinulog Festival on January. It is a must-see event where devotees come together to dance the Sinulog!
Entrance Fee: None
Location: Osmeña Boulevard, corner P. Burgos Street Cebu City
How to get there: Ride any PUJ (public utility jeep) that is going to Colon or Carbon. Usually jeepneys heading this way passes through Sto.Nino. If still unsure, check out the signage or ask the driver themselves.
Taoist Temple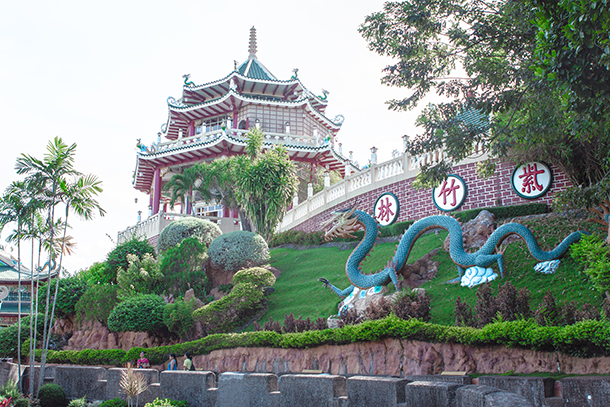 There are a lot of temples in Cebu, but one of the most famous is the Taoist Temple in Beverly Hills.
It is a multi-tiered templed that serves as the center of Taoism in the city. Despite that, it is open to non-worshipers too.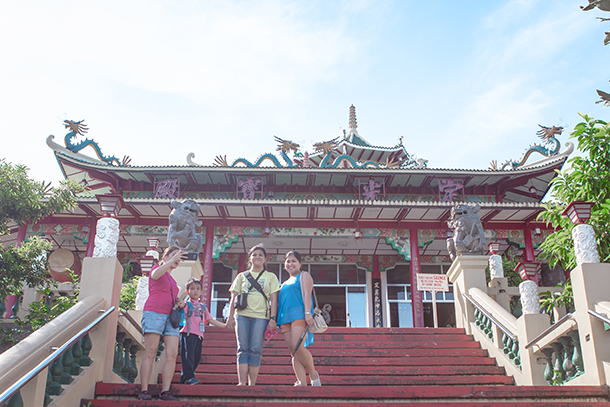 I was a little breathless going up the stairs towards the temple… I mean look at the stairs! LOL.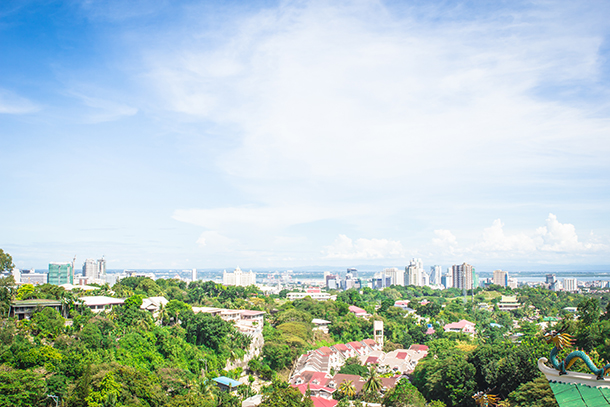 The structure in itself is worth a visit not to mention the amazing views of the city that you can see.
Everyone is reminded that the Taoist Temple is a place of worship, so proper behavior should be maintained.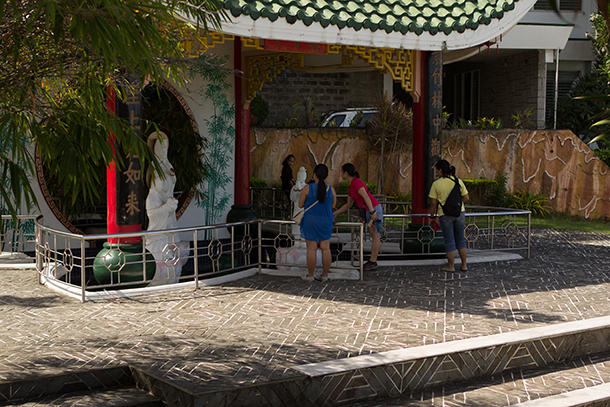 We did not enter the altar though as I was wearing shorts. However, we did try throwing coins and making a wish at the wishing well 😉.
Entrance Fee: None
Location: Beverly Hills, Cebu City
How to get there: Ride any PUJ (public utility jeep) that is going to Lahug. Stop at the corner going to DepEd and ride a habal-habal from there. You may also opt to walk from the corner, depending on your mood or maybe the weather, to the temple.
Minimum Fare: 10 Php to 20 Php
Sirao Flower Farm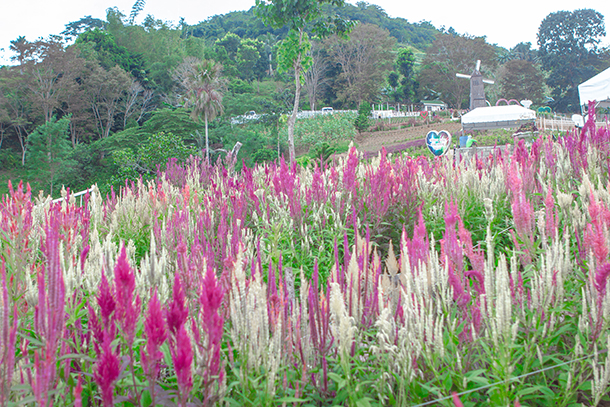 After the Taoist Temple, we headed to Sirao Flower Farm. We opted to try this first as it was farther than the other places included in our Cebu Day Tour.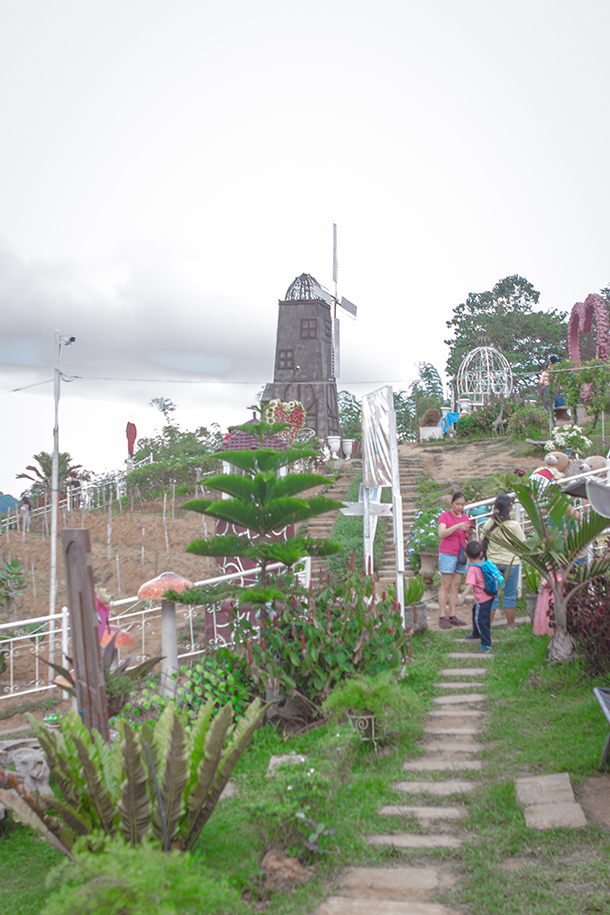 Upon arrival, we noticed that there were two (2) Sirao Flower Farms. Both on the process of developing their landscape. We tried the older one and was maybe a little disappointed as the staff/workers were still cultivating the land.
It's like an on-going project where the garden is still being landscaped and all.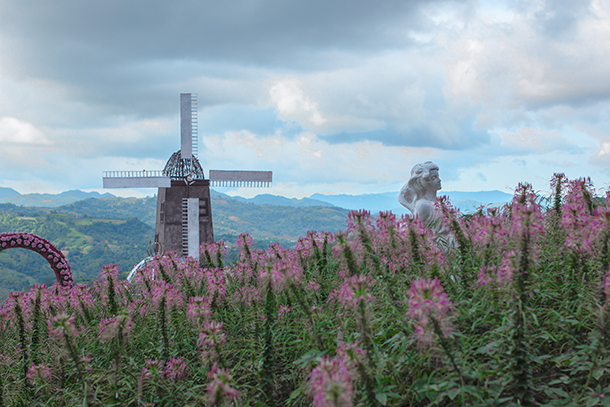 Admittedly, the flowers are indeed instagrammable if caught with the right angle. Maybe in a few months when everything is in full bloom, this will be a great place to visit.
We opted not to visit the second farm though as it was about to rain.
Entrance Fee: 100 Php; Children 7 yrs old and below – Free. (Please take note that entrance fees for the 2 gardens are not the same. So double check when you visit
Location: Sitio Tawagan, Sirao, Cebu City
How to get there: Ride any PUJ (public utility jeep) that is going to Lahug. Stop at JY Mall and cross to the Lahug Market. From there ride a habal-habal to take you to Sirao Flower Farm.
Minimum Fare: We asked locals about this and the fare is at 75 Php per head. You may also ride a taxi going up. Remember to haggle to get the best price.
Temple of Leah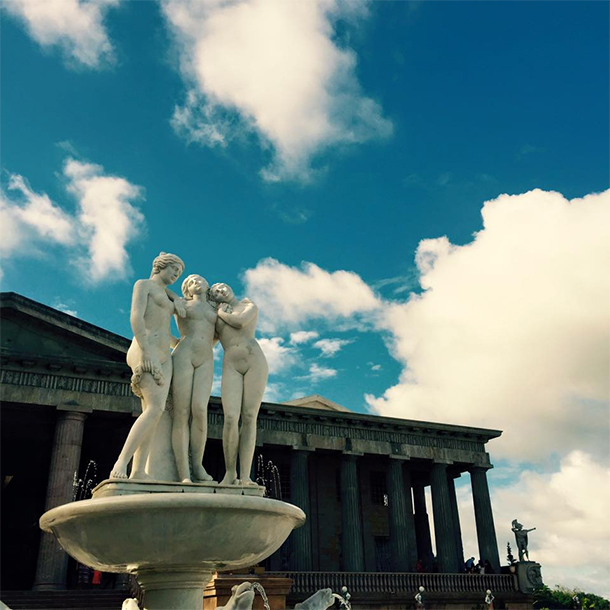 Another interesting new attraction in Cebu is the Temple of Leah in Brgy Busay.
If you are into Roman architecture, then the Temple of Leah should be included in your Cebu day tour itinerary. It's an elaborate Roman-style structure built by Teodorico Soriano Adarna in honor of his wife, Leah Villa Albino-Adarna.
You could say it's a symbol of love not unlike the Taj Mahal in India.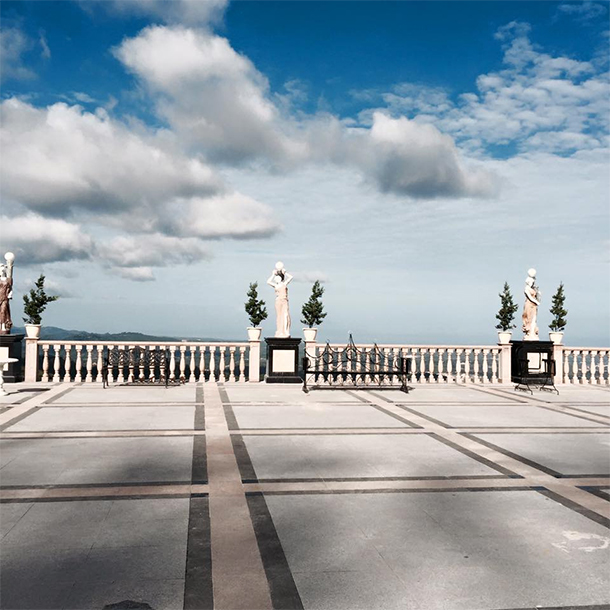 It is gaining a lot of popularity here in the city not only because of the structure or the reason behind the place but because of the views of the city from up here!
Entrance Fee: 50 Php
Location: Roosevelt St., Brgy. Busay Cebu City
How to get there: Ride any PUJ (public utility jeep) that is going to Lahug. Stop at JY Mall and go to the Lahug Market. From there ride a habal-habal to take you to the Temple of Leah.
Minimum Fare: The fare is at 50 Php per head. You may also ride a taxi going up. Remember to haggle to get the best price.
Lapu-Lapu Shrine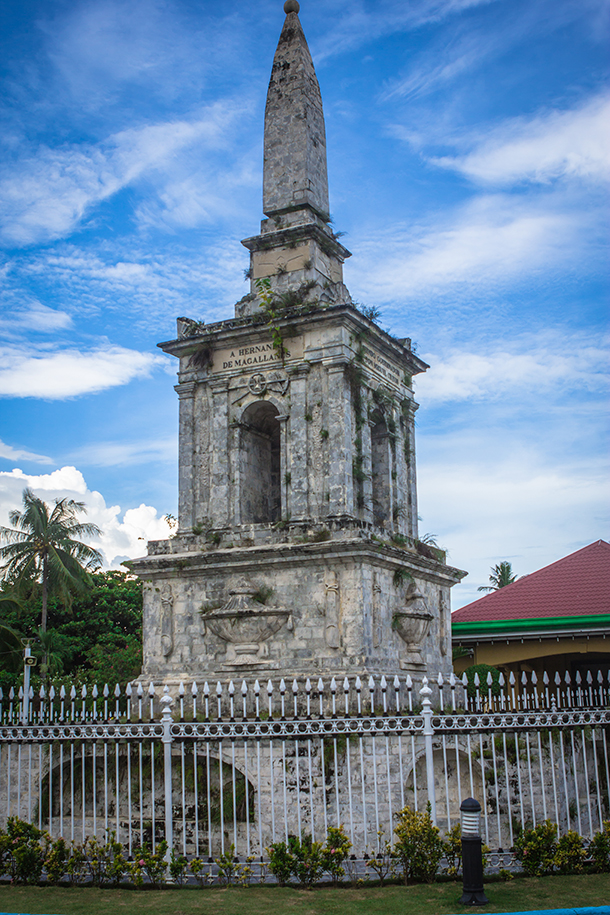 If you still have time, why not visit the Lapu-Lapu Shrine in Mactan, Cebu. It is a couple of minutes (would maybe take an hour though if the traffic is heavy) from Cebu City.
Aside from the numerous resorts found here, Mactan is also popular because of the history that it represents in the region. This is where Lapu-Lapu, a native leader, was able to defend his island from the Spaniards led by the Portuguese explorer Ferdinand Magellan.
Locals call the event as the Battle of Mactan in 1521.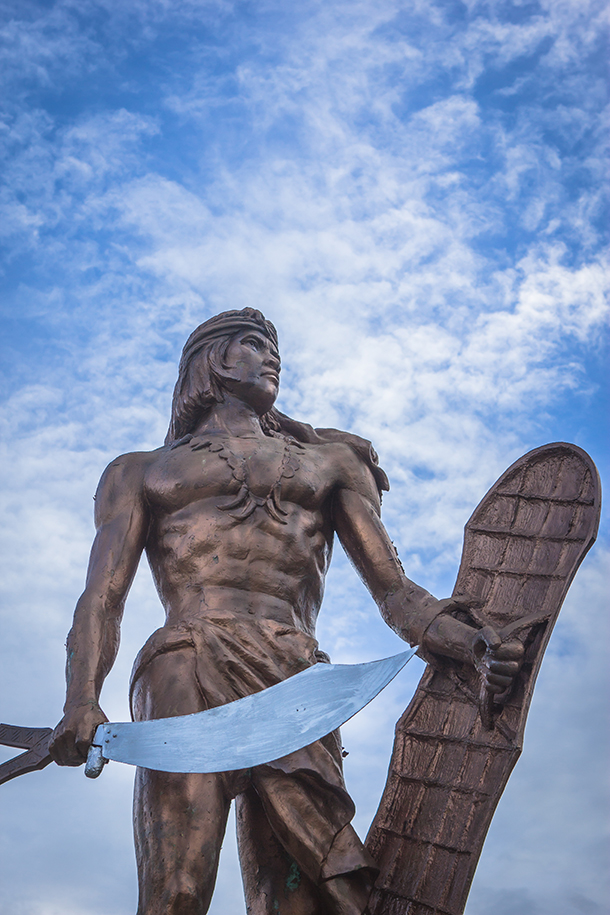 A 66 ft bronze statue has been erected here in honor of Lapu-Lapu.
The park/ shrine is pretty clean with landscaped grounds plus a few souvenir shops inside and outside the park. The 'Kadaugan sa Mactan', an annual event in the island, is held here where a reenactment of the epic battle is performed.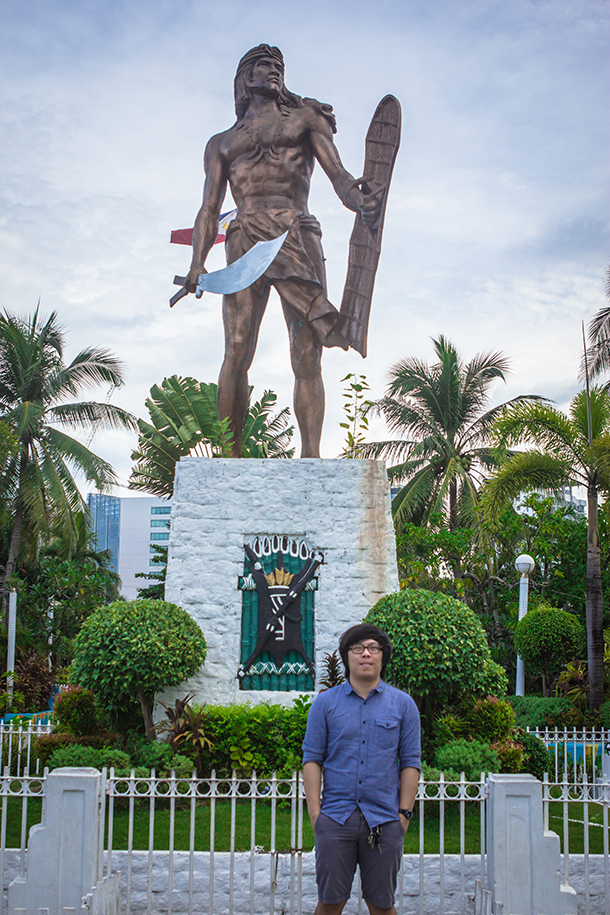 This is my husband's first time to visit so he was pretty happy to take a picture with Lapu-Lapu. According to him, seeing it in person is different than by reading it on textbooks! 😉
Entrance Fee: No Entrance Fee
Location: Punta Engaño Rd, Lapu-Lapu City, Cebu
How to get there: Ride any PUJ (public utility jeep) that is going to Punta Engano. If you are from the city, you may ride a jeep going to Park Mall and take the jeep going to Punta Engano at the terminal.
10,000 Roses Café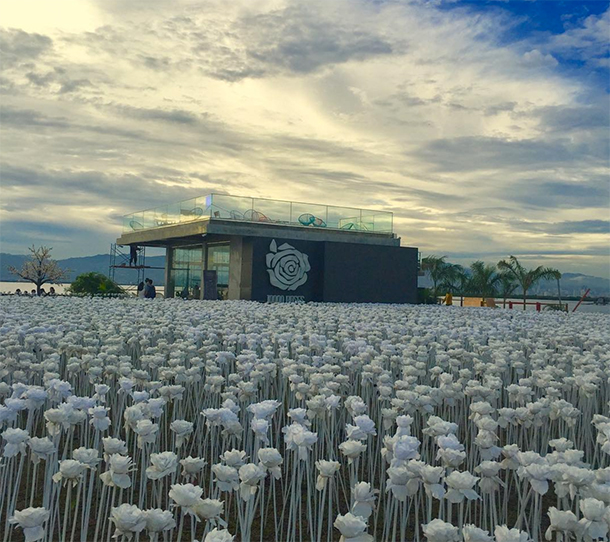 Our last stop for the day was to one of the newest tourist attraction in the province: the 10,000 Roses Café.
To be honest, it is just a café near the beach. But what is really spectacular about the place are the 10,000 white roses at the entrance. It is not much from afar.
However if you move closer and take a couple of pictures, they do look great. You'll be rewarded with the cool view of the white roses lighting up the area if you wait for the night/ dusk.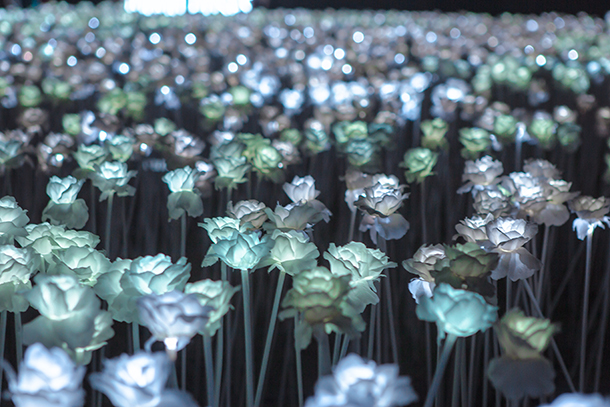 To set the record straight, these are not real roses. The roses are artificial and LED-powered. So most guests who wants to see them at their best should arrive here between dusk and night.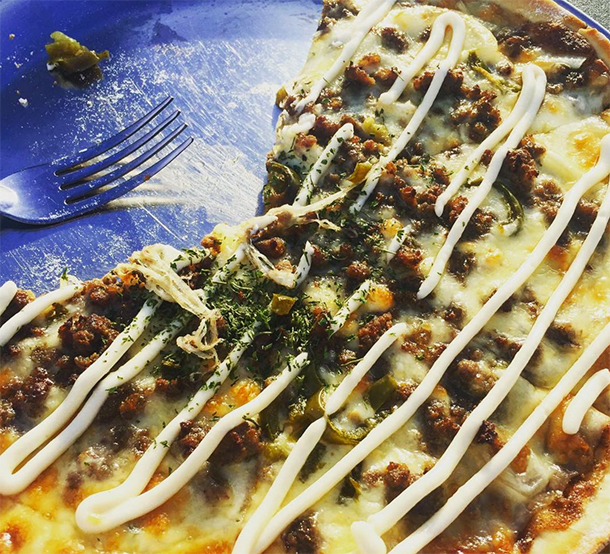 We arrived here at around 5 PM and waited a couple of hours until nighttime to witness the flowers light up. We ordered some frappe and this delicious pizza to while away the time.
Not bad considering we were killing the time. LOL.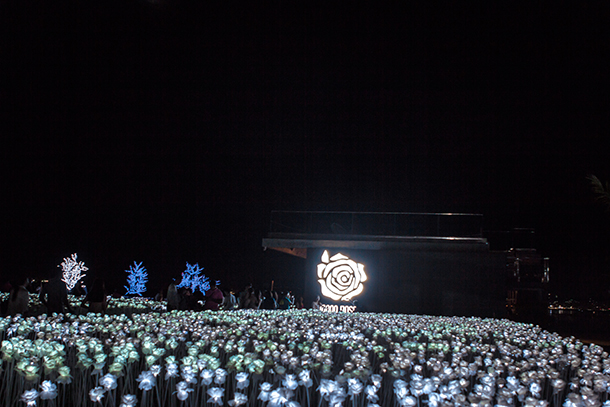 Be responsible though when you visit. There were previous issues of irresponsible tourism here. People would squeeze/ put themselves in between the roses to get better pictures (as the roses are indeed very instagram worthy). So take pictures but don't destroy please!
Entrance Fee: 20 Php (whether or not you buy anything from the Café).
Location: Day-as, Cordova, Cebu (beside Lantaw Floating Restaurant in Cordova)
How to get there: There are many options going here. The easiest I guess will be taking the Taxi. However, if you are feeling a little bit adventurous and got time to spare, you may ride a V-hire going to Cordova (fare is at 40 Php).
Alight at Cordova Grandmall and take a tricycle going to the Café.
We went home satisfied of the day and how we spent it. 🙂
If you got a day to spare and are willing to spend it exploring Cebu, then this is the best way to do it. There are indeed more interesting places to visit in Cebu rather than the usual places like malls and shopping centers.
Of course, your Cebu day tour itinerary will depend largely on where you are coming from. If you're starting point is in Mactan, it'd be more practical to start from Lapu-Lapu then head to Cebu. However, if your within Cebu City, then you'll probably choose those places within Cebu first and Lapu-Lapu or maybe vice versa.
DIY Cebu Tour Budget
Here's the sample of our DIY Cebu tour itinerary with list of expenses. I did not include the time as it'll depend on you, of course 🙂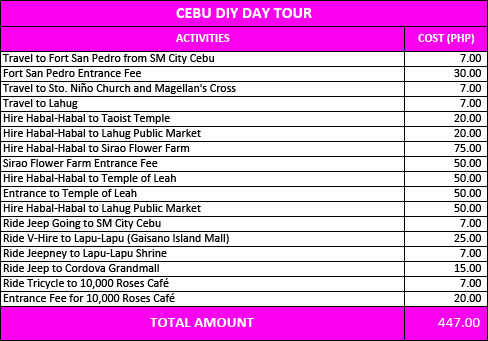 If you are staying longer, you can also try out Island Hopping in Mactan, Cebu, or maybe try some tasty food at the Sugbo Mercado in I.T. Park or visit the Simala Church in Sibonga.
Need some place to stay? You can check out this popular hotels or maybe something more affordable?
So tell us, have you been to Cebu? Which Cebu attraction was your favorite? Or perhaps we missed one attraction that you'd like to recommend?
Share it on the comments below! I'm sure a lot of people would like to try their very own Cebu day tour too!
Like this post? Pin it!