Admit it. We all want a little bit of luxury at times, do we not? Maybe spend a day or two at a luxury resort or maybe go on a luxury vacation? And luxury resorts in Mactan, Cebu are definitely bucket-list worthy!
I, for one, loves to indulge sometimes. Especially on stressful days where I've reached my limit and just wants to relax. Splurging on some luxury resorts in Mactan, Cebu is one that my husband and I loves to do.
Sounds expensive? Hmmm.. Maybe. But personally, indulging oneself to luxury at times can be great. There are always some amazing discounted rates on promos that you can look into. And of course, if well planned then expensive mistakes can be avoided! 😉
'Why Mactan?', you'd ask… Well, apart from the fact that I lived near this great island, Mactan, Cebu is considered to be one of the Philippines' popular island resort. There are numerous hotels and resorts situated here for guests wanting a break from the city.
You may be wondering if I spend this much, how will I know if I'd get my money's worth?
We got you covered with this review/ overview of some of our favorite luxury resorts in Mactan, Cebu that aims to help you decide and plan for your next getaway!
Just a note though: This post and the opinions are strictly my own. This is not a sponsored post. I will not be reviewing all amenities, only those that I've enjoyed during my visit. 😉
Review of Luxury Resorts in Mactan, Cebu!
Plantation Bay Resort and Spa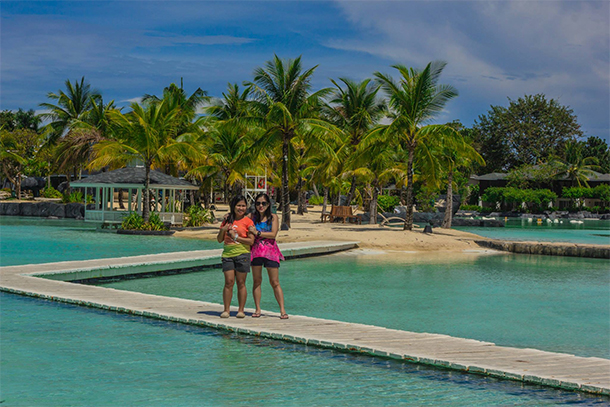 Alright. So here's the thing about luxury resorts in Mactan, Cebu: Plantation Bay. It's pretty famous because of its man-made saltwater lagoons. And to be honest, it's one of my favorites too!
I've always loved taking a dip here! There are areas that are deep but most are not. Just enough for you to swim leisurely 🙂 Aside from the lagoons, there are other freshwater pools inside the resort that you can take a dip in.
The rooms are a more on the classy side comparing to the more modern rooms that you'd expect on a luxury resort. But! It has a certain charm that still gives the feeling of luxury!
If you're staying near the lagoon, the balconies are the perfect place to spend a quiet moment. 😉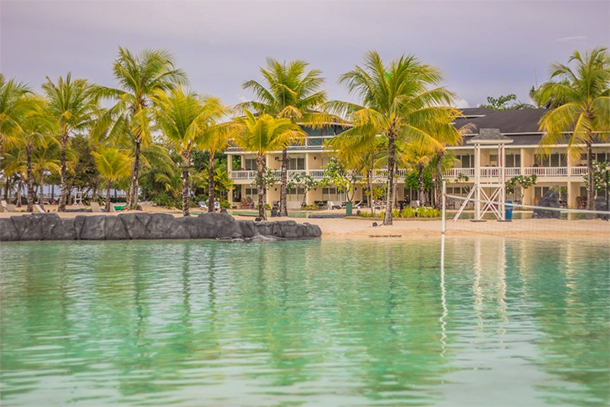 Personally, I'd recommend the rooms near the lagoon. It's such a nice feeling going to bed and waking up with this view!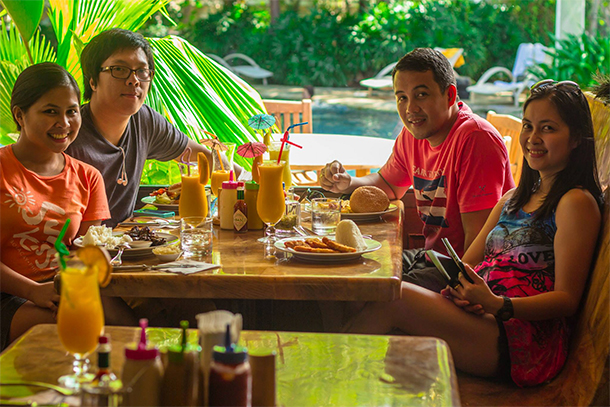 Plantation Bay has several restaurants inside the resort itself. So finding a place to dine is not a problem. Unlike most resorts however, breakfast at the Plantation Bay is not included in your package. But as mentioned, you can always choose from those that are open or you can look for food somewhere else within Mactan 🙂
There are nightly entertainment shows at the Plantation Bay that also serves dinner. We haven't tried one before as we opted for somewhere more relaxing 😉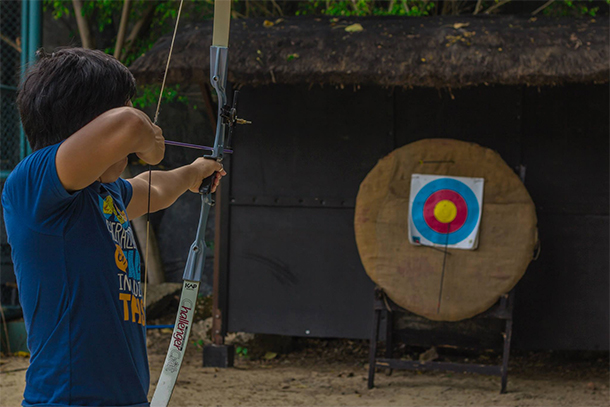 Aside from the usual amenities that is common to resorts, Plantation Bay also has a wall climbing facility, archery and bird watching.
What I love most about Plantation Bay is that the resort is laid out like a village. You can either ride the golf cart to bring you from one place to another (within the resort of course) or enjoy a leisure walk around its cemented pathways 🙂
Mövenpick Hotel Mactan Island Cebu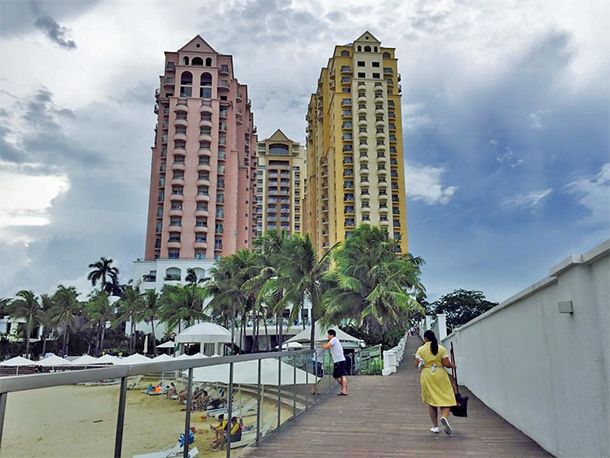 Among the luxury resorts in Mactan, Cebu that I've been in, the only beach that I've enjoyed so far is that of the Mövenpick. Honestly!
Apart from being clean and well-maintained, the beach at the Mövenpick has some few corals and fishes that you can enjoy while snorkeling. We spent our vacation swimming, but not on the pool, but on the beach!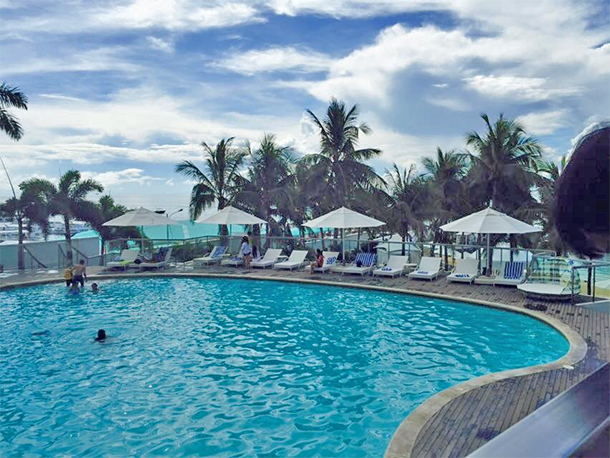 The views are just as relaxing from the pool and from the beach club.
The rooms are pretty stylish and modern. It's contemporary design is minimalistic and refreshing. I love the color combination of this particular room. Stepping inside it reminds you that you are indeed at the beach!
Perfect for a relaxing vacation!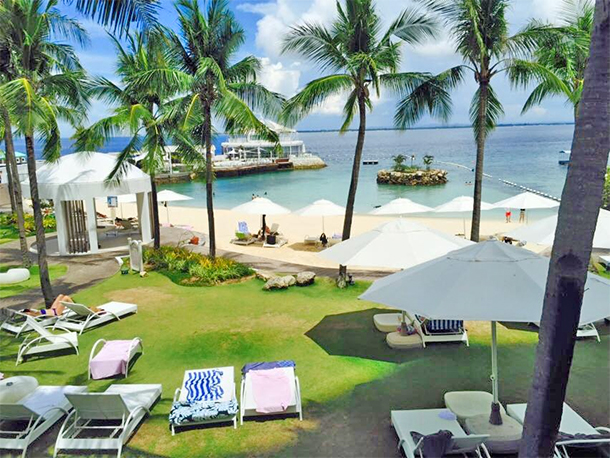 It's smaller than the rest of the luxury resorts in Mactan, Cebu, to be honest, but Mövenpick is unique in its own right. The white interior and furniture gives off a nice ambiance.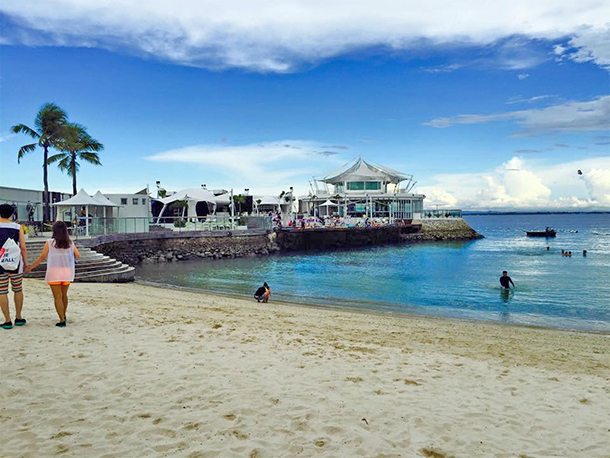 Do you love night life? Then, Mövenpick is just right for you! Nightly entertainment are shown at the Ibiza Beach Club. Good food and nice music is always the right mix for a fun-filled night! It's a must-try for those wanting a more hip and fun night out.
JPark Island Resort Waterpark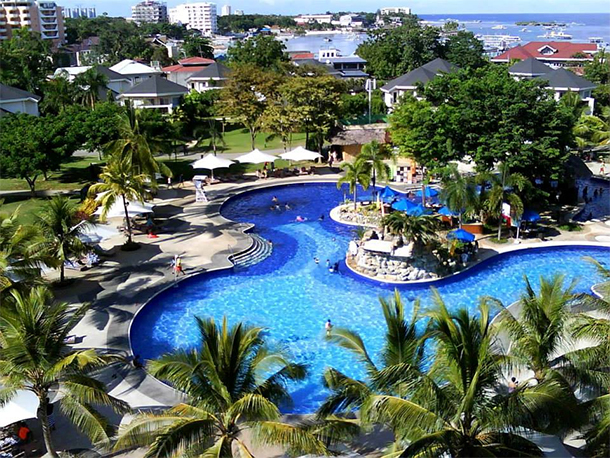 Formerly known as the Imperial Palace Waterpark Resort and Spa, JPark Island Resort Waterpark is definitely a must-try if you want to enjoy more thrilling pool slides.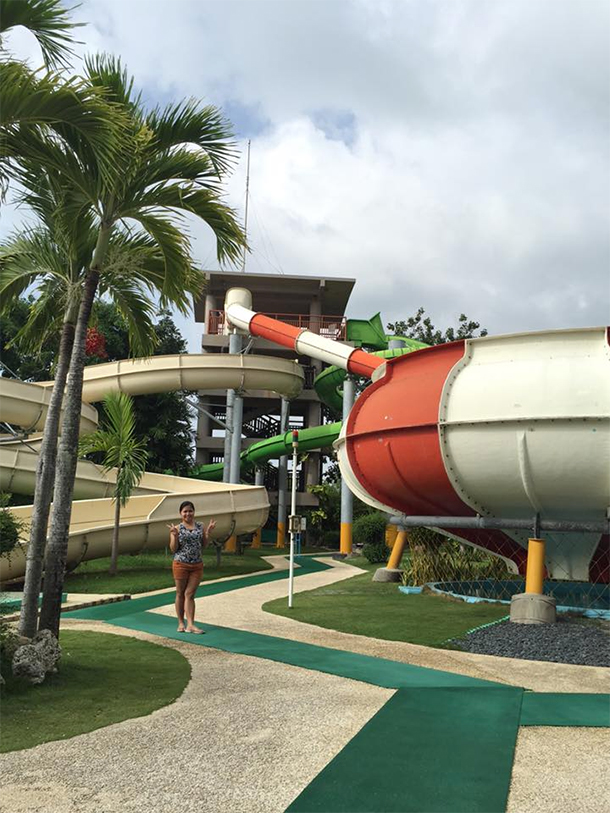 JPark is pretty popular with its waterpark. The slides are definitely a must-try for those wanting a bit of adventure while enjoying the water.
This luxury resort in Mactan, Cebu have several pools and slides that you can enjoy. So whether you love thrilling slides or just enjoy a nice pool to lounge, JPark has indeed a nice variety that you will love.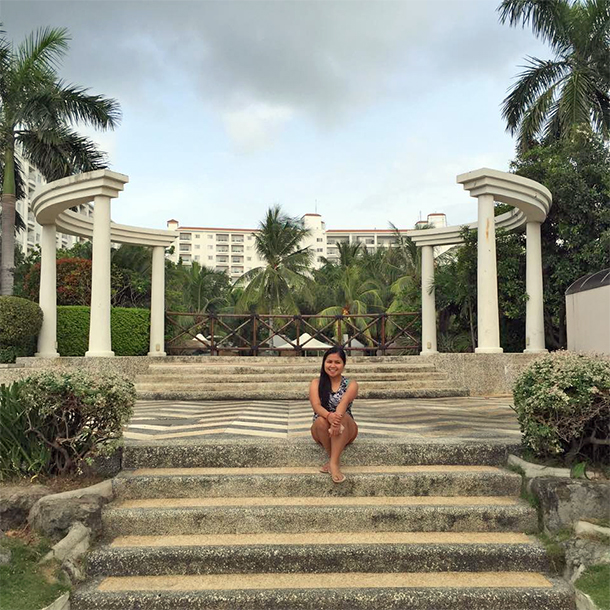 Aside the pools, the amenities including the structures in the resort are great. It's like walking in a park with plenty to see and enjoy!
After a fun day at the pool, a nice and relaxing rest in one of JPark's rooms is called for. And, who wouldn't want to spend a relaxing day here?
Like many luxury resorts, JPark's rooms are comfortable with modern facilities that fits everyone's needs. The rooms are pretty stylish and elegant.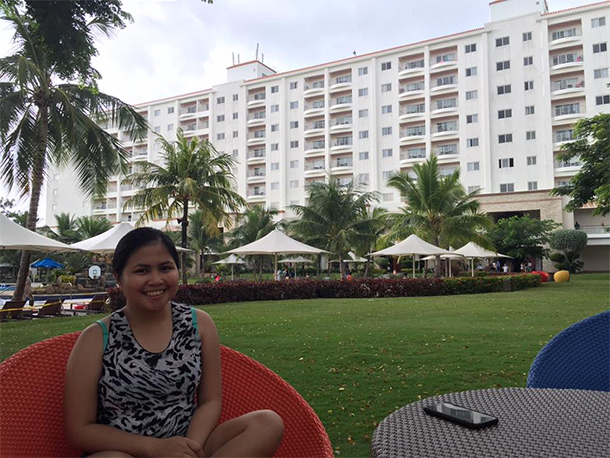 What I particularly love about JPark is their super cozy garden chairs. (I am weird that way. LOL.) We spent most of the afternoon sitting here and enjoying the view. Such a perfect set-up! 😉
Crimson Resort and Spa Mactan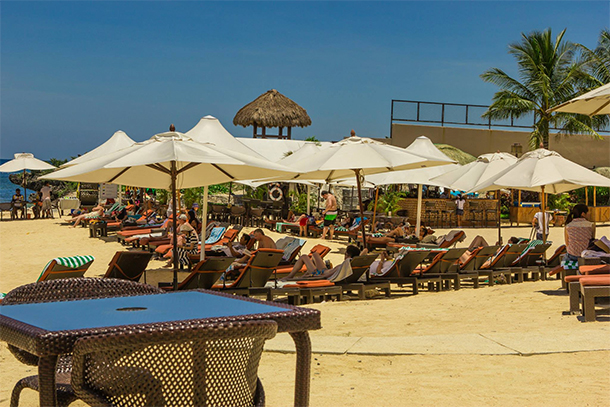 Another luxury resort in Mactan, Cebu that is worth trying out is the Crimson Resort and Spa Mactan.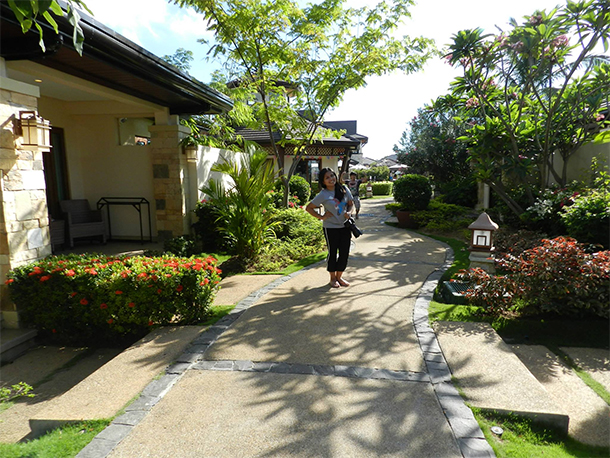 Like the Plantation Bay, Crimson Resort is laid up like a village. You can walk through the landscaped pathways or you can take the golf cart to take you from one location to another.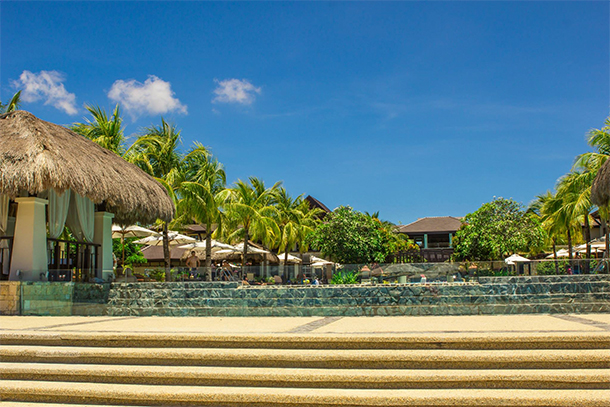 The pools and the landscape are some of the things I particularly liked most about it. Such a great way to relax on a weekend for a quick getaway.
The rooms are pretty modern with some traditional furnitures. What I liked most about Crimson's rooms are the earth colors that they have chosen to color the room.
It adds a tropical and homey feel to it.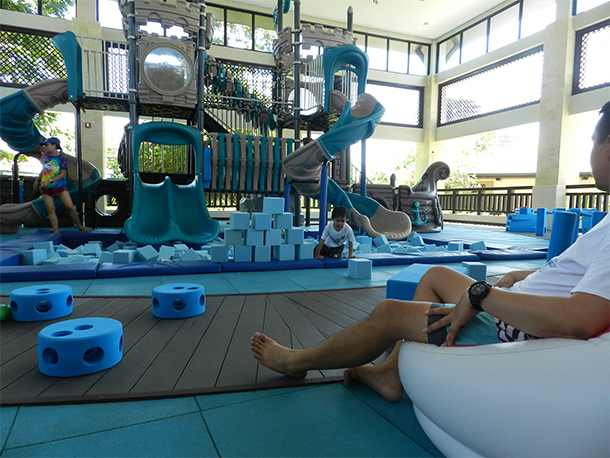 Crimson also has a couple of kid-friendly area for children. This is particularly important if you are on a vacation with kids. My nephew was pretty happy playing at the Crimzon Club and swimming at the Crimzone Pool. It is a kid-friendly pool that is spacious enough for kids to swim and play 🙂
Conclusion
Alright then. I think I am missing one. I'll be saving it for later. Will update the post as soon as I am able 😉
The rooms are a bit expensive, to be honest. But I think the experience, ambiance, amenities and the service all make a stay to this luxury resort worth it!
Like what I've mentioned earlier, sometimes a bit luxury is great for a stress-free vacation at the beach! I hope this short review helped you decide in choosing a resort too!
What do you think? Have you splurged and indulged lately?
Like this post? Pin it!