If you've been reading my blog and been following on my adventures (which I hope you are), then you probably know how I adore Palawan. The beautiful beaches, amazing lagoons, crystal clear waters and abundant marine life…. Palawan is definitely a paradise! It has several popular cities and municipalities including Puerto Princesa and its famous Puerto Princesa tourist attractions.
Puerto Princesa is a coastal city that is home to the famous Palawan Underground River. Aside from the underground river, there are indeed a lot more that the city can offer. More Puerto Princesa tourist attractions to see and experience!
Puerto Princesa has been dubbed as the 'City In a Forest' and a visit will help you understand why it's called that way. The locals and its LGU (Local Government Unit) have put great effort in ensuring the preservation of the city's natural resources and in maintaining its cleanliness. A hard feat for most, to be honest.
Going to Puerto Princesa is pretty easy. There are direct flights from selected cities in the Philippines or you may opt to travel by sea. Once there, you can use the local tricycle, multi cabs, jeepneys or mini-bus to navigate your way around.
I have been to the city twice before. There are indeed a lot of Puerto Princesa tourist attractions that you will need to visit to get a feel of the city and what it has to offer.
On both times, we hired a travel agency to take us to several Puerto Princesa tourist attractions. This includes the Underground River. We have also tried exploring it on our own including those within the city proper. It is more cheaper and the city is easy to navigate.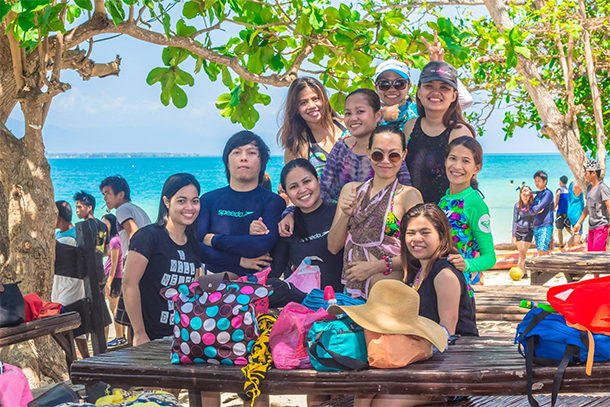 We were with my closest friends way back in college during this trip, thus making this adventure extra memorable! It was our first trip together outside of our hometown so imagine the excitement of spending a couple of days together! 😉
So for this post, I am going to list down several Puerto Princesa tourist attractions that you should try. We did this trip for 2-3 days (both my first trip and second trip as I was still working at an 8-5 job then). You can mix and match, depending on your preference, of course.
Check this out to help you in planning for a fun getaway, may it be traveling with friends or traveling solo!
Biking at the Baywalk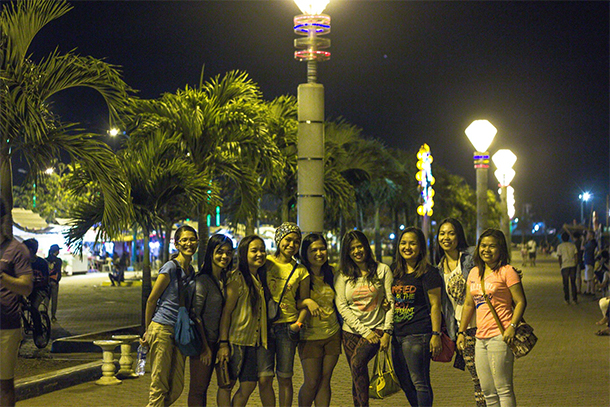 One fun Puerto Princesa attraction that you should definitely try is biking at the Baywalk. It's within the center proper. You can just hire the local tricycle going there. Fare may vary I guess depending on your location. We were already near the city center when we hired a tricycle to take us there. Our fare cost at around 10 Php (0.20 USD).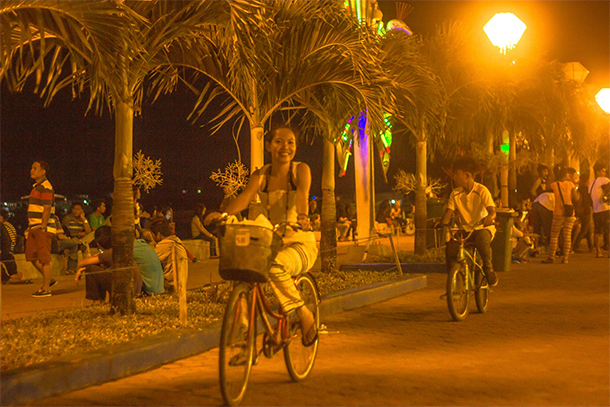 Bicycles (with or without side-seat) can be rented here depending on the size starting from 100 Php. It is best to bike around the Baywalk at night as it is not too hot or too cold. There are plenty of dining options too at the Baywalk that you can try.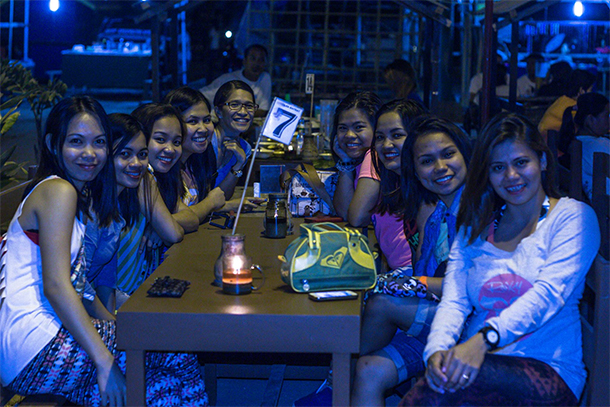 I've been to Puerto Princesa's Baywalk twice – we tried biking during our first visit. Well, to be honest, they biked while I sat. I don't really know how to bike. haha! On the second visit we opted to dine only on one of the stalls.
You may try this on the day of your arrival since it is within the city just like we did. Take your dinner here, relax and prepare for the next day's adventure.
Note: The bikes can be used only at the Baywalk. 🙂
Puerto Princesa Tourist Attractions Itinerary
Puerto Princesa Itinerary Day 1 – Underground River Tour
A visit to Puerto Princesa isn't complete without a tour of the famous Puerto Princesa Subterranean River National Park. It has been recently hailed as one of the New Seven Wonders of Nature, so a definite must-try Puerto Princesa Attraction.
Tour rates start from 2200 Php for adults and 1500 Php for children at the age of 3-7 years old. Below 3 years old are already free. Please keep in mind that the rates may vary depending on the tour inclusions :).
Some online agencies offer this tour at 2100 Php which already includes buffet lunch.
For your guidance, the usual inclusions are air-conditioned van, boat transportations, pick-up and drop from your accommodations within the city proper, licensed tour guide, entrance fees and terminal fees and of course the lunch buffet. Plus a side trip to the Ugong Rock Adventures in Brgy. Tagabinet.
Caving and Ziplining at Ugong Rock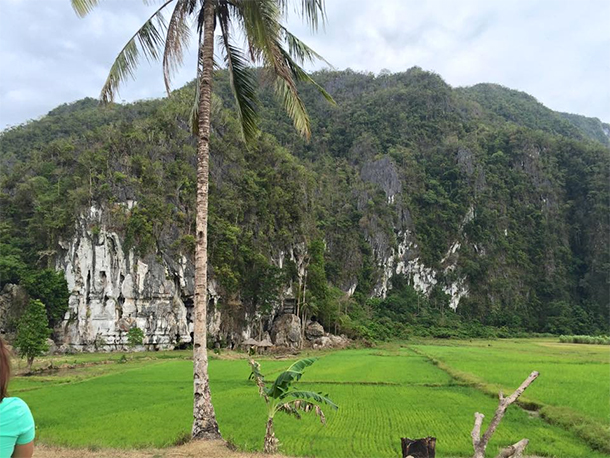 Ugong Rock is a limestone rock formation which stands 75-feet high in the middle of a rice field and karst mountains. A hollow limestone inside the cave makes an ugong (which means drone/ buzz) when tapped, thus the name Ugong Rock.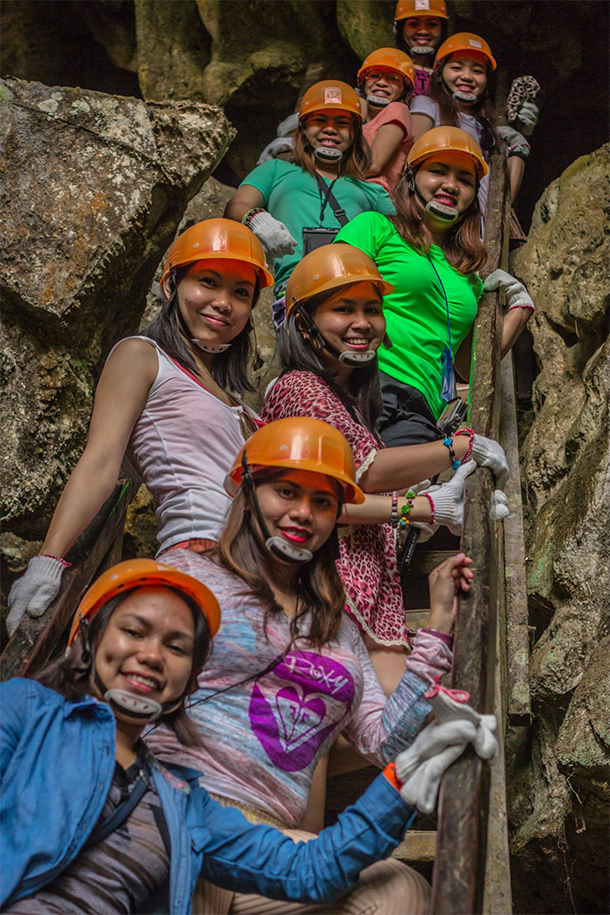 An orientation is conducted prior to starting the adventure. We were provided with helmets and gloves to be used during the entire activity for safety. It is a cave and sharp edges are expected.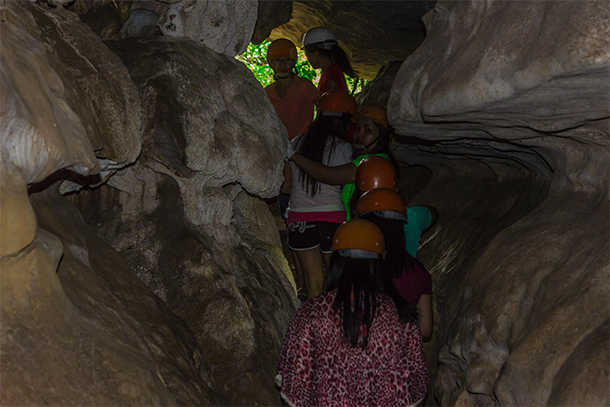 The cave is a bit tight with areas that you need to squeeze into to gain entry. But it was alright. I am claustrophobic and this activity was pretty cool and did not trigger any unwanted issues to me. LOL.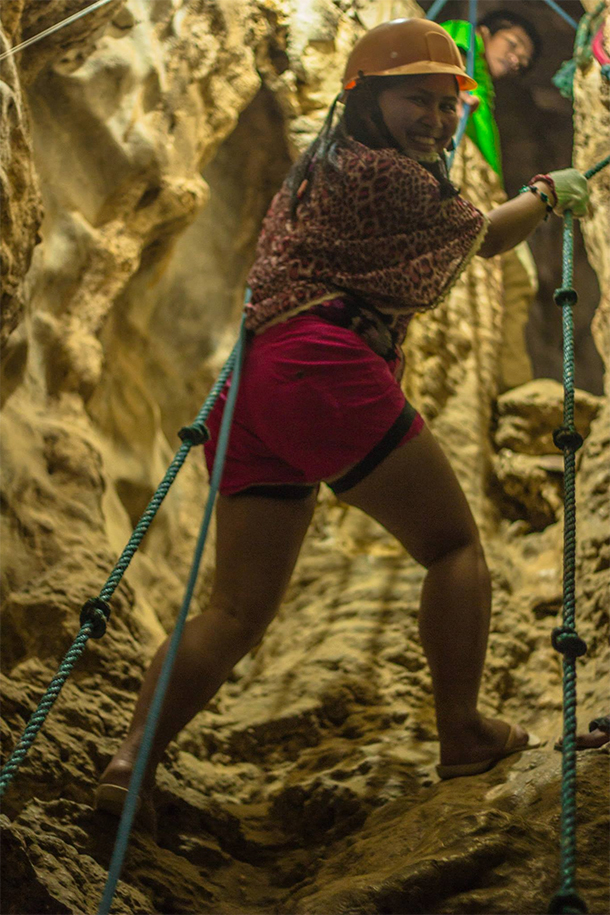 The tour took around an hour or two which includes climbing and crawling. There were several wooden stairs that you will need to take so you have to be careful. And this propelling type of activity to get to the top.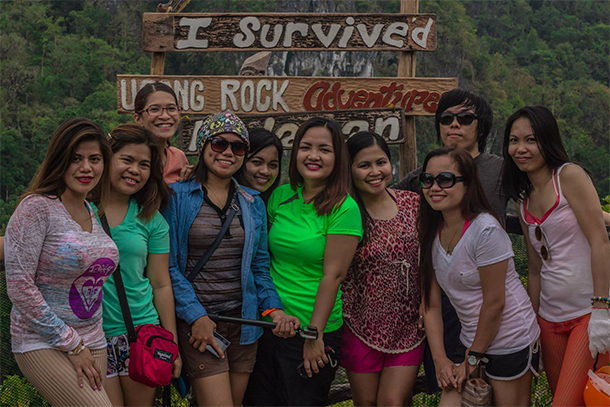 Once on top you will be rewarded with a 360 views of the surrounding landscape. They offer a zipline activity through rice paddies in order to get down. You don't have to try it though if you don't want to. There is another option that you can choose. It's an additional cost, by the way, but it was fun!
During our visit, the entrance fee to the Ugong Rock Adventures is at 200 Php and the zipline costs at around 250 Php. If you're on tour, then the entrance fee will be included on your package. The zipline, however, was not.
Online booking for the ugong rock spelunking and ziplining is at 3300 Php. This includes the rappelling, spelunking, ziplining activities, a stop at the Sheridan Organic Farm and lunch.
Cruising the Underground River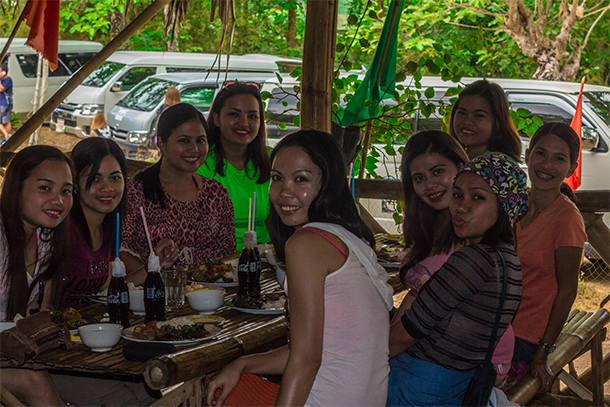 After our adventure at the Ugong Rock, we were taken to the Sabang Wharf for a quick lunch. After eating we were assigned to a small boat that would take us to the National Park.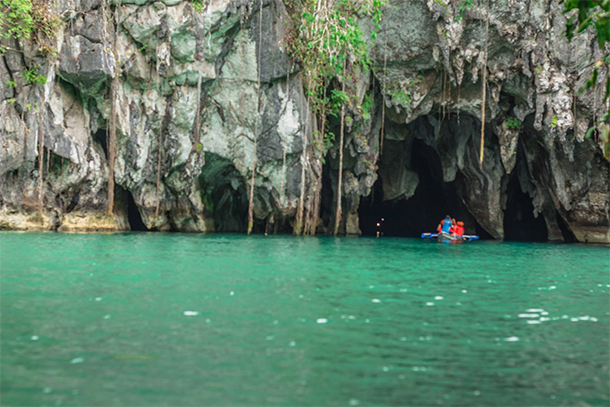 There were a lot of people also waiting for their turn to do the tour of the Underground River, as expected. Please take note that it is important to pre-book a tour to the Puerto Princesa Subterranean River National Park because the tours are limited per day.
The tours are conducted in a small banca that can occupy at a maximum of 10 persons, excluding the guide. Each of us were given helmets and life vests prior to the start of the tour. It took about an hour or two to complete which was pretty worth it! 😉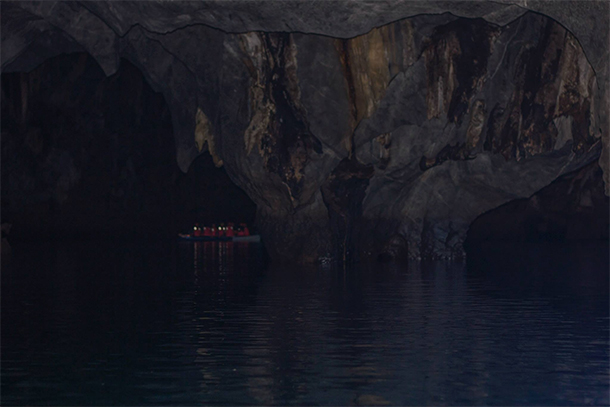 A small lamp  was as our only light throughout the tour as it is pretty dark inside. Our guide was very entertaining. He explained some interesting facts about the river and pointed out uniquely shaped stalagmite and stalactites which drew amusement and laughs from us.
Photos cannot really give justice to the beauty inside the park.. You just have to be there to see it!
Puerto Princesa Itinerary Day 2 – Island Hopping
A visit to Puerto Princesa is definitely not complete without the island hopping. We did it on both of our visits.
Island Hopping at Honda Bay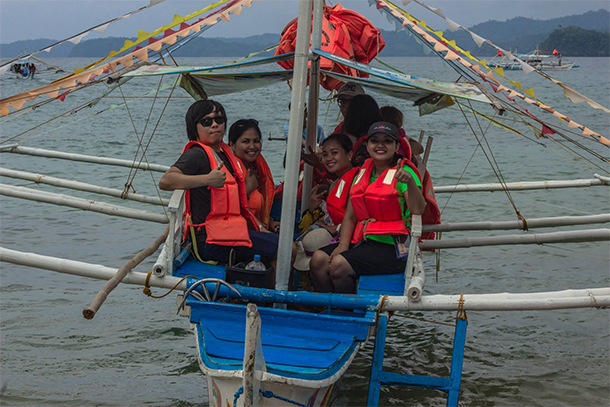 Puerto Princesa's Honda Bay is another Puerto Princesa tourist attractions that you should not miss. It's a popular tourist attraction with plenty of islands that you can choose from. Because of the travel time, not all islet can be visited during a single Honda Bay island hopping tour.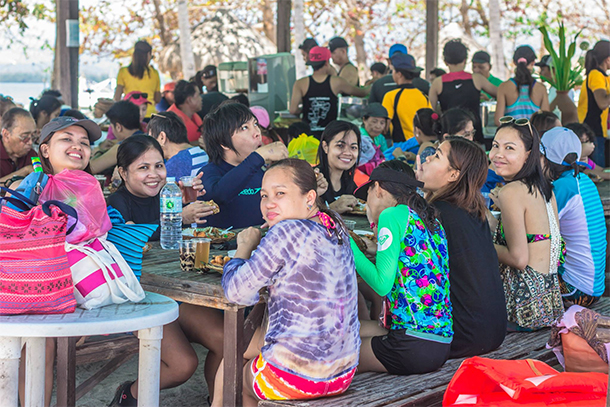 There are limits to the number of islands that you visit so it is important to talk to your guide beforehand if you have a certain island request. Certain fees apply and are already included in your package if you hire a travel agency. Aside from the entrance fees to the island, the package usually also included the tour guide and lunch buffet.
Personally, I would recommend getting a travel agency for your Honda Bay Island Hopping to avoid hassle as transportation from your hotel to the Sta. Lourdes Wharf and vice versa may be more expensive and may take time. Cost for a Honda Bay Island Hopping Tour starts at 1,300 Php to 3,000 Php , depending on the agency and tour package inclusions. It is advisable to compare prices to avoid expensive travel mistakes.
The Honda Bay Island Hopping takes up several hours to enjoy it most, so be sure to allot a day or two if you want during planning of your itinerary.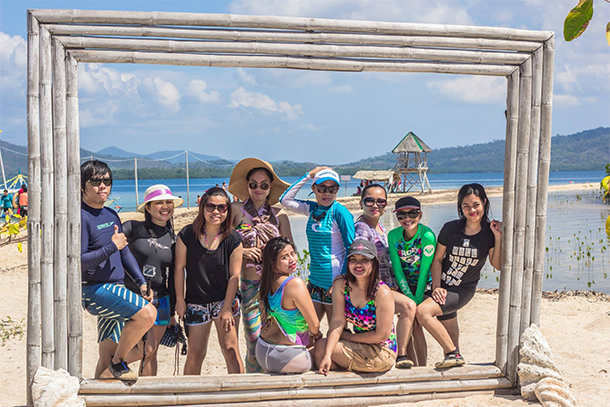 Among the popular islets that you will be visiting on your Honda Bay Island Hopping are:
Starfish Island – pretty known for the numerous starfish that you'll be able to see.
Luli Island– short for 'Lulubog-Lilitaw' which means that it appears and disappears during low tides and high tides.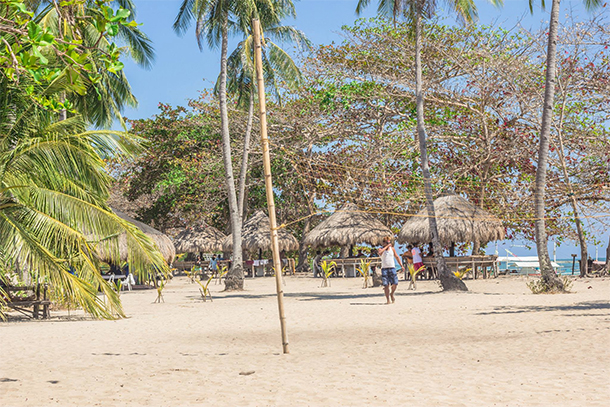 3. Pandan Island – perfect for snorkeling and diving with white sands and lush forests and
4. Cowrie Island – breath-taking stretch of white sand with several amenities to accommodate your basic needs.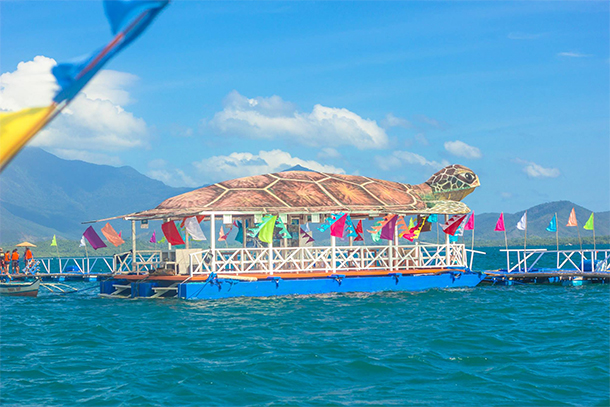 We also got a chance to check out the Pambato Reef on our first visit to Puerto Princesa. There is no island here, but a floating turtle-shaped cottage. You can feed fishes here and snorkel around while enjoying the numerous corals.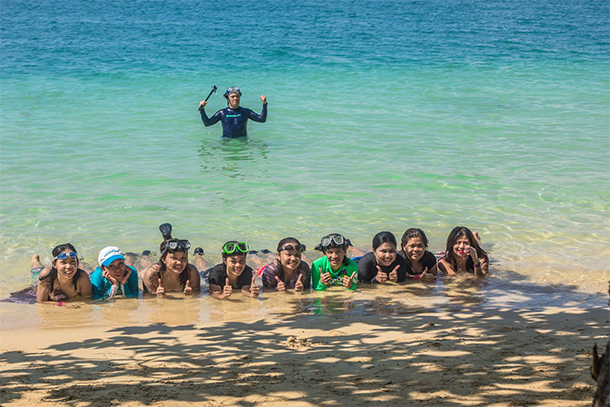 So yeah, if you're looking for a little sunburn and a lot of fun, a Honda Bay Island Hopping is the best way to go!
Day Use at Dos Palmas Resort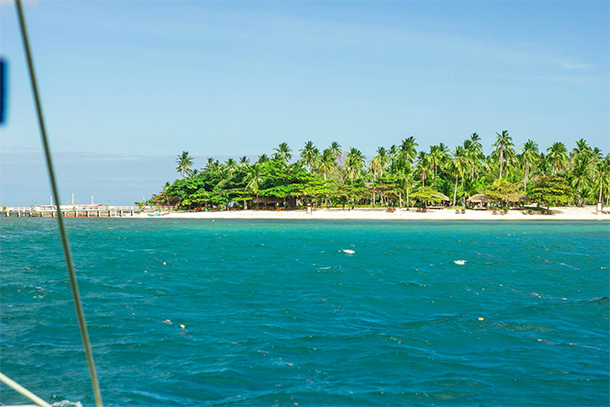 If you'd rather explore a luxury island resort, then a Day Tour to Dos Palmas Resort can also be another option. We haven't tried the Day Tour, but we did stayed for 2 nights in the resort during our 1st visit.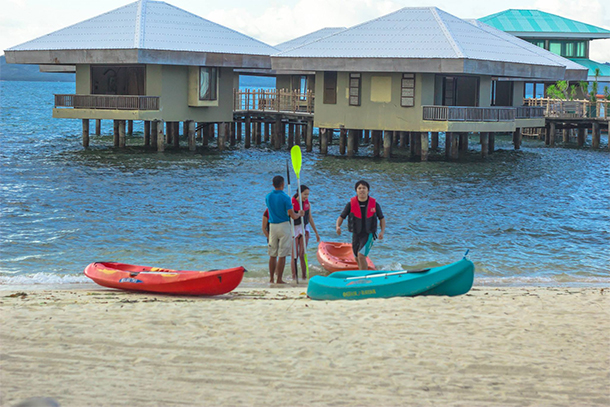 The resort has a pretty relaxed ambiance that you will love. Cost for a day tour is at around 1800 Php (for adults) and 900 Php (for children). Facilities such as kayaking, snorkeling and ball games are available for guests.
I must say, snorkeling here is definitely a must-try. They have one of the best snorkeling sites I have seen so far.
Eat at KaLui
On our last night in Puerto Princesa, we tried one of their famous restaurants in the city: KaLui.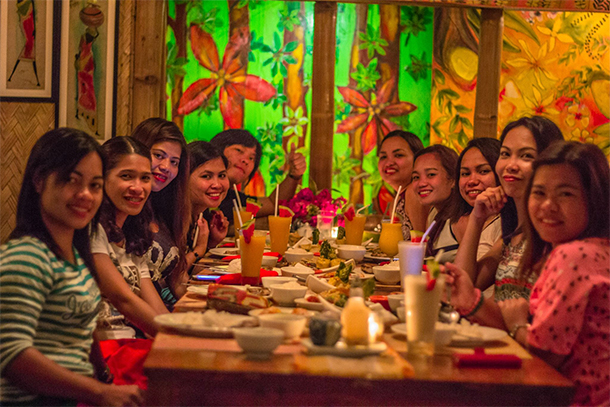 Puerto Princesa's KaLui is a must-try that you shouldn't miss. It's a pretty popular dining spot in Puerto Princesa that you will need to book in advance. You definitely need to include this in your Puerto Princesa itinerary or your Puerto Princesa tourist attractions to visit.
Prices are alright and pretty standard for restaurants like this so you wouldn't really worry about it, not unless of course you are in a very tight budget.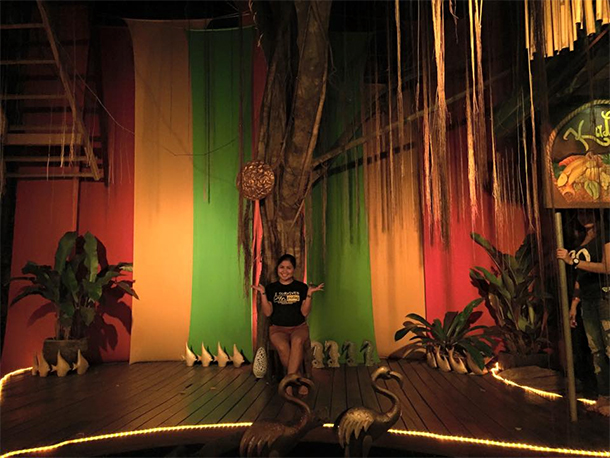 The food is pretty good and the restaurant has a unique interior. Not unlike the restaurants that we've tried in Coron. You'll get a field day taking pictures of their set-up and numerous displays.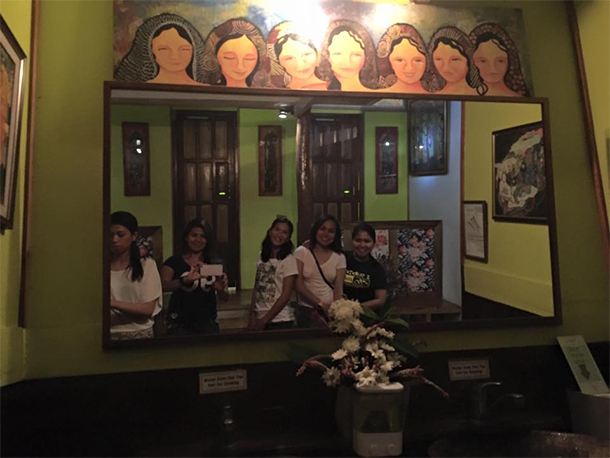 Plus they have a unique and clean rest room. Which I consider as a big plus factor as this is not very common to other restaurants of this type.
Puerto Princesa Itinerary Day 3 – Puerto Princesa City Tour
On our 3rd and last day, we decided to do a quick city tour. Our flights were leaving later in the afternoon and so we figured that this is the best way to spend the day. We visited some spots before during our first trip here, but did not see all Puerto Princesa tourist attractions has to offer.
If you're thinking of hiring a travel agency for this, price starts at 600 Php per person which usually includes the air-conditioned van, entrance fees and guide.
The spots are quite far from each other, so if you'd rather do it yourself (DIY), then you may as well rent a tricycle (just like we did in Coron!) that is good for 5 persons max. Price ranges for 300 Php to 500 Php, so be sure to haggle ;).
As for us, since we were leaving in the afternoon we opted to still get a travel agency as we had our luggage with us and didn't want the hassle of commuting especially when running late.
Immerse with the history at Immaculate Concepcion Church and Plaza Cuartel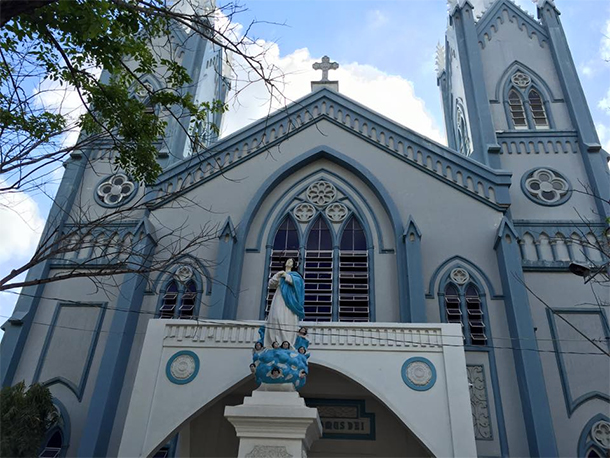 Our first stop was to the Immaculate Concepcion Church. The church was built on the 1800's in honor of Puerto Princesa's parton saint. After saying a little prayer, we headed to our next destination, the Plaza Cuartel which is just across from the church.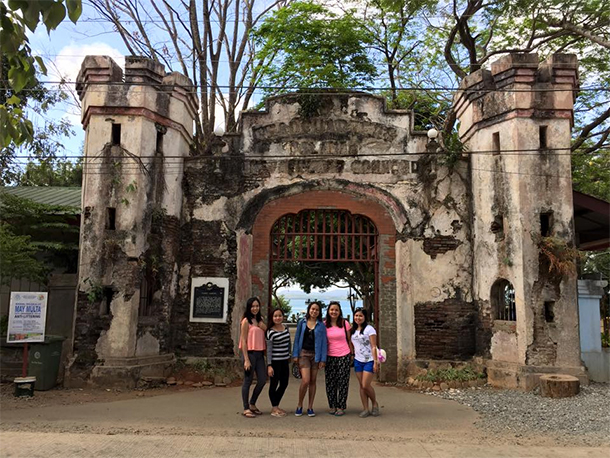 The Plaza Cuartel is once a military defense base during the World War II.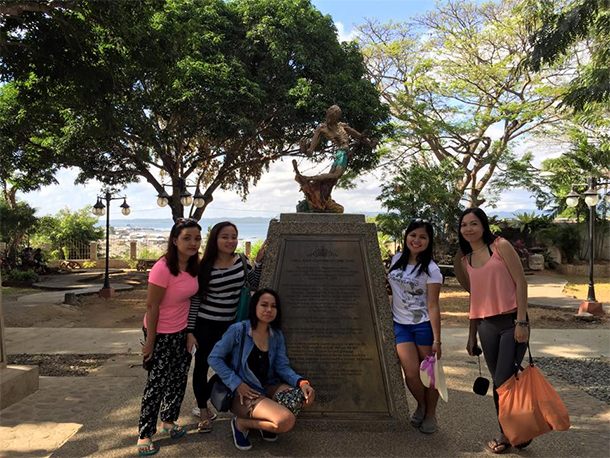 There were about 143 American prisoners of war tortured and burned here. Those who survived were able to swim to Iwahig.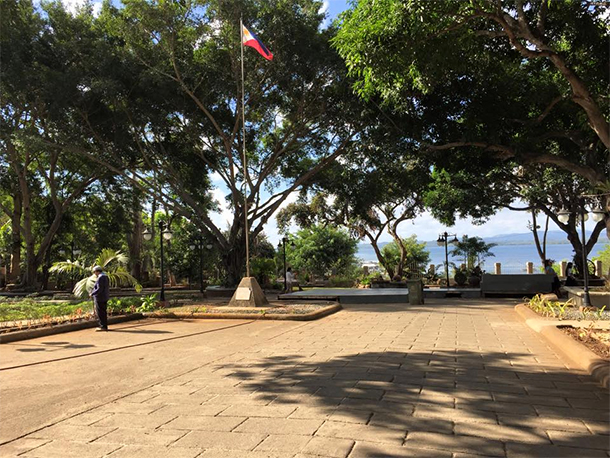 Today, the area has been transformed into a relaxing park for tourists and locals.
Explore Palawan's Wildlife Rescue and Conservation Center
Puerto Princesa is also the home to the Palawan Wildlife Rescue and Conservation Center (formerly known as the Crocodile Farm). It is a facility that not only conserves two endangered species of crocodiles found in the Philippines – the saltwater crocodile and the endemic Philippine freshwater crocodile – but also conducts further studies on Palawan's endangered species.
I remember the Calauit Safari in Coron which also aims in protecting wildlife.

Entrance fee for the tour (at the time of our visit is at around 40 Php. The tour, albeit short, was pretty informative. We were led first to the display of one of the largest crocodile (even though it was just a skeleton. LOL) that I've ever seen. There were also informative posters inside that you can read.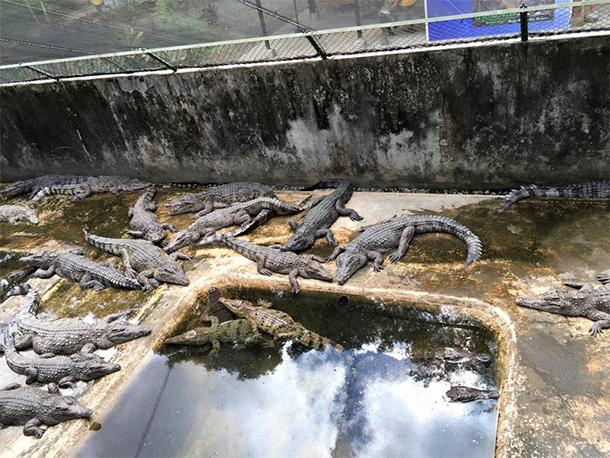 Next stop was the Hatchling House where baby crocs placed on white tubs and are fed. This gave us a chance to see them up close.
The bigger crocodiles where kept in a swamp-like area just right after the Hatchling House. We walked on an elevated ledge over the swamp. Here, you can get a better view of the reptiles. It made me shiver a little as I am not a fan of crocodiles.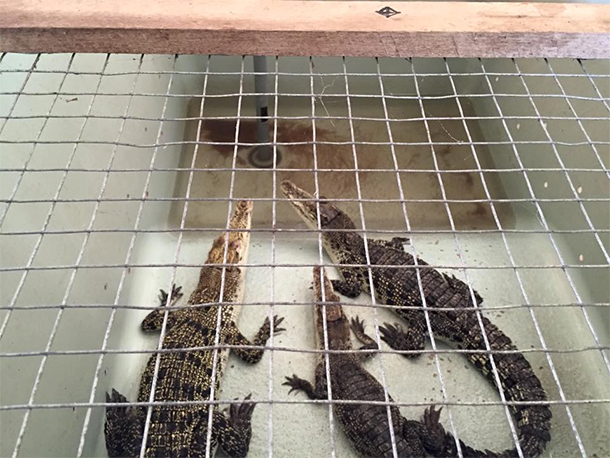 If you want a picture with the crocodile, the conservation center has this. With the babies of course. LOL. Imagine taking a picture with an adult crocodile! Poor little guy, though. According to the staff, they limit the number of persons who takes a picture with them. This causes stress to the little crocodile.
Take a Peek of Puerto Princesa's Views at the Mitra's Ranch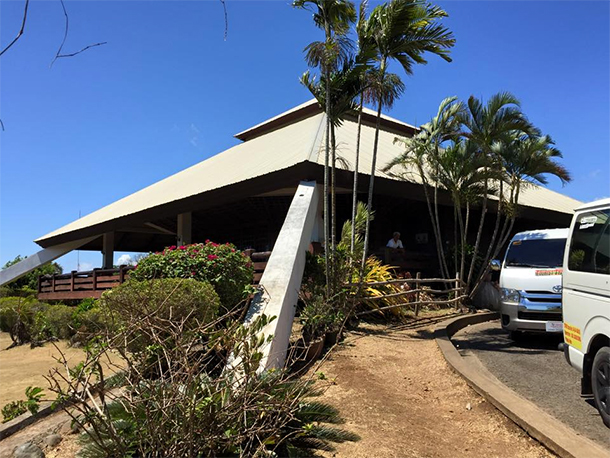 After Plaza Cuartel, we visited Rancho Sta. Monica or Mitra's Ranch.The ranch offers activities such horseback riding and ziplining among others.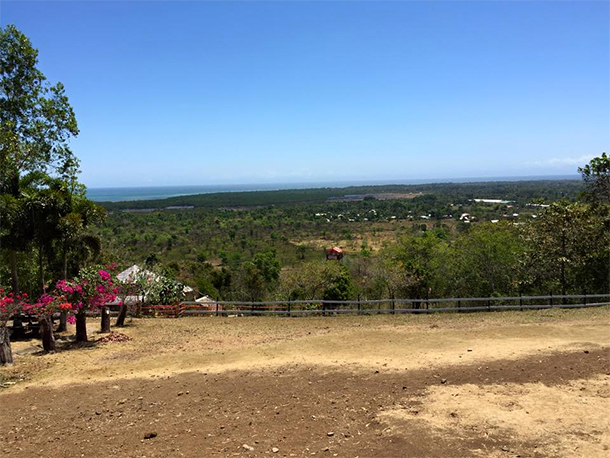 For us, however, we took this opportunity to sit back and enjoy the views of Puerto Princesa from the ranch. It was indeed a great moment! ;).
Visit Baker's Hill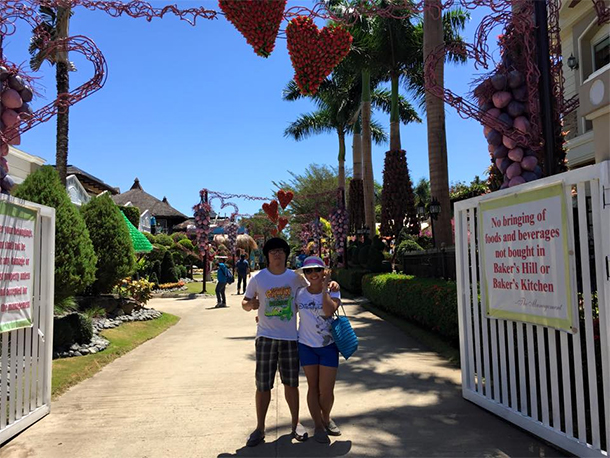 Our last stop prior to heading back to the airport was the Baker's Hill. It's like a mini-theme park/ restaurant with fun and colorful landscape and statues.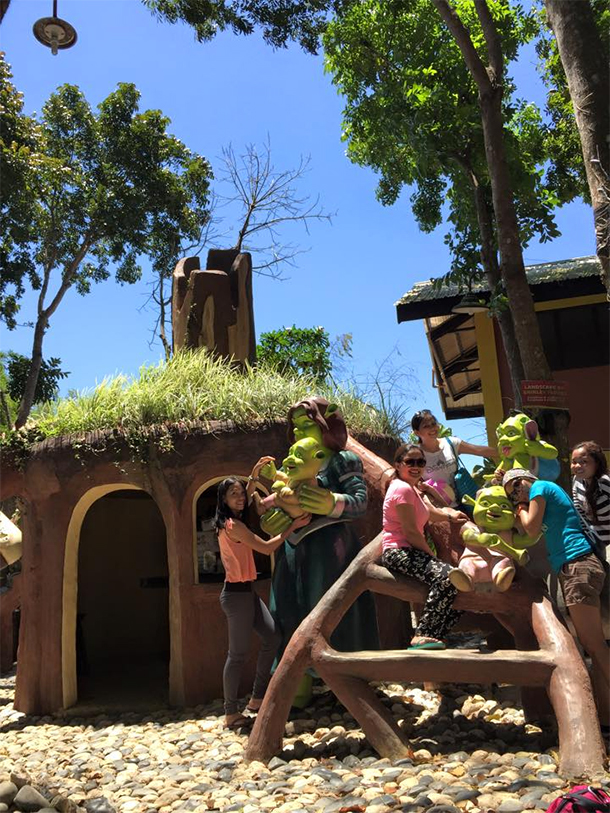 It's indeed one of Puerto Princesa's most instagrammable spots with the numerous photo opportunities. Even as grown-ups, we had a great time posing to the camera and enjoying the park. It was like being a kid again! ;).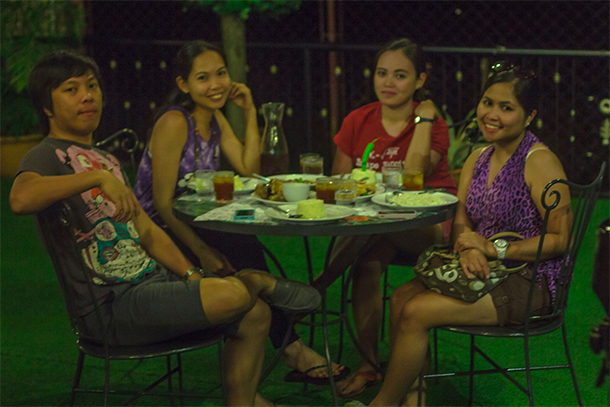 There are several food stops here, as it is home to a few restaurants. We had our dinner here before on our first trip, and the prices were alright for a restaurant. There were exotic food options on the menu, but we declined and chose the usual food that our taste-buds can take. I'm not really a fan – at the moment – for tasting exotic foods.
One of their must-try is the Baker's Hill Hopia which was really yummy! You can purchase it on one of the bakeries here.
We had our lunch in a fast food chain near the airport and left Puerto Princesa in the afternoon. A simple end to our fun-filled getaway!
Conclusion
There are still indeed a lot of places that I did not get to visit in Puerto Princesa. But I sure would love to come back and explore more!
I hope this guide helped you with your travel plans. I'm sure you'll love Puerto Princesa as much as I did! Happy travels! 😉
Oh and by way, here's the video of our fun trip in Puerto Princesa. I hope you like it!

Like this post? Pin it!