The Ilocanos (people living in Ilocos) are known in the country for serving some of the best dishes in the Philippines. I've heard plenty about the delectable dishes that they serve but never really had the chance to try authentic Ilocos food up until we visited earlier this year.
Despite not having the time to check out local restaurants or basically explore their food scene like we did in Dumaguete City or in Coron, we certainly got a taste of some of their popular dishes and got to take home some yummy snacks too.
One restaurant that is popular in the region is the Hidden Garden in Vigan, Ilocos Sur. We visited the restaurant during our day trip in Vigan and got a chance to try some Ilocos' local favorites.
As we were a group (it was one of our annual friends' get-together), we ordered the food for sharing. It's cheaper and at the same time we got a chance to taste a variety of food at one time. There are a variety of choices, mind you. But we finally got to choose four (4) viands together with rice.
One noticeable thing about the dishes is that the food were served on tin pots used to cook food. Each serving was good for 2-3 persons, depending on your appetite of course. Here is a look of the food we tasted:
Must-Try Dishes in Vigan, Ilocos
Bagnet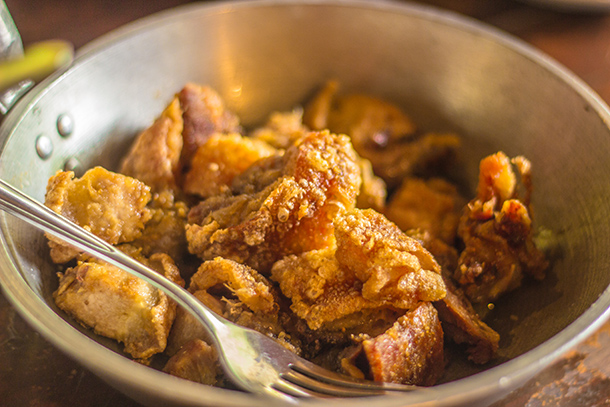 Bagnet is another Ilocos cuisine made with deep fried pork chunks that are marinated with Ilocano Sauce and are served together with tomatoes, bagoong and garlic.
I find Bagnet a bit similar to Carcar's Chicharrón which are also deep-fried pork rind with a little salt. The Chicharrón is a favorite snack or can also be partnered with rice and served as viand to a meal.
The Bagnet however was a bit more than the Chicharrón and was perfect add-on to our lunch.
Igado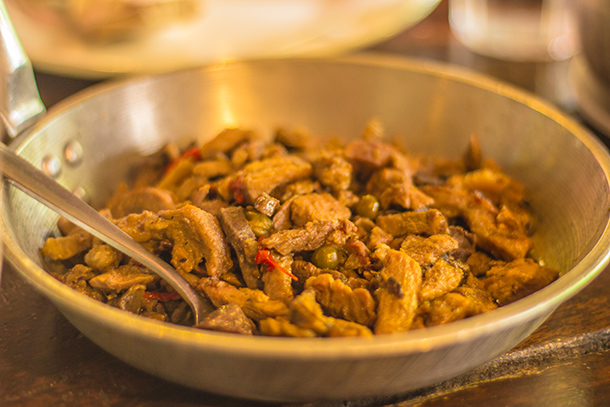 The Igado is an Ilocano dish made from strips of meat, liver and other internal organs combined with bell pepper and green peas among others. Personally, I'm not a fan of livers and internal organs on my food, but this one was a great dish to try.
Pinakbet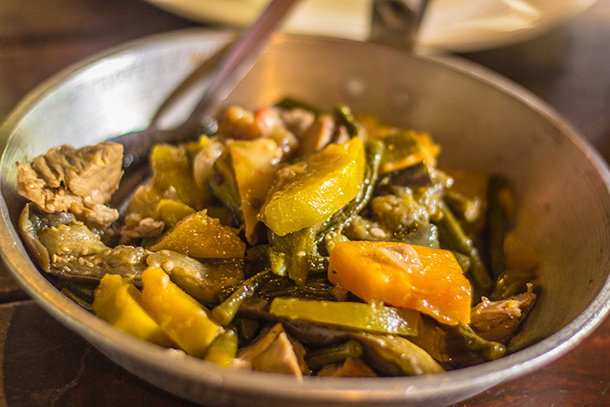 Pinakbet is one of the region's specialty that has become one of the Philippines' national cuisine. It's a delectable combination of eggplant, okra, green beans and squash and other vegetables and are cooked with bagoong (a salty shrimp or fish paste).
I've always been a fan of Pinakbet and I must admit the Ilocano's version of a national cuisine is pretty delicious!
Sinanglao/ Sinanglaw
The Sinanglao is a Ilocos cuisine that is popular to Ilocos Sur. It's a favourite breakfast food for the Ilocanos that is made from a cow's internal organs including its tenderloin, heart and intestines. They are boiled and are best paired with 'sukang Iloco' or Ilocos vinegar.
We had Sinanglao though during lunch and it was just perfect. If you'd like to try it for breakfast, however, head over to the Empanaderia near Plaza Burgos to have some!
If you are a adventure eater, then this is definitely something that you can try.
Must-Try Snacks and 'Pasalubong' in Vigan, Ilocos Sur
Empanada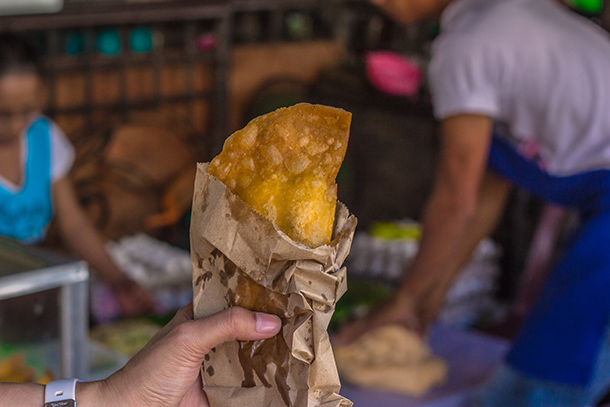 The Empanada was not part of the food we ordered at the Hidden Garden. Rather it was one of the food some of us tasted while exploring Vigan on foot near Calle Crisologo.
Empanada is a taco-like delicacy made with vegetables (i.e grated papaya, mung bean sprouts and shredded carrots) and meat fillings and wrapped in rice flour dough. The empanadas are sold freshly cooked at the Empanaderia near Plaza Burgos.
As a local custom, bringing 'pasalubong' for families back home is a culture that we Filipinos have. You can also drop off at the pasalubong centres in Vigan, near Calle Crisolog to buy some take home treats. We bought some of these home and you should too!
Bagnet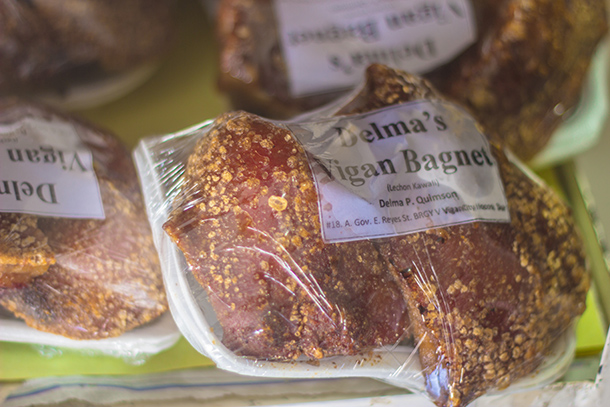 Aside from being available in restaurants, Bagnet are also available as a pasalubong item. The pork are packed and sold in stores ready to be taken home. They are already cooked when packed but is still advisable to cook the meat again before consuming.
Chichacorn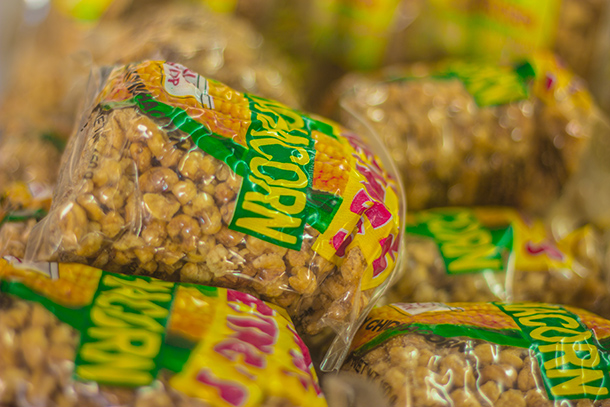 Corn-lovers out there will surely enjoy Ilocos' Chichacorn. It is a semi-popped style of cornick that is fried and is made from lime-treated glutinous corn. These are great snack options while on road trips or for just watching movies!
Chichapop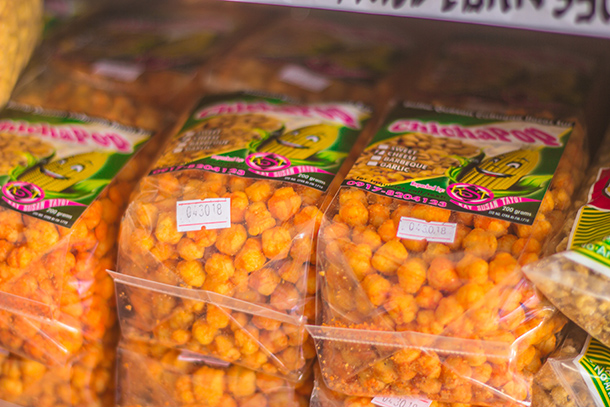 If you are a fan of nuts, Chichapop is definitely an Ilocos food that you need to take home. Chichapops are somehow similar to Chichacorn but are more soft and chewy. It's such a perfect snack to munch on too and one that my husband loved to eat while working.
They came in several flavours including Cheese, BBQ and Original Flavour. We bought two (2) pieces of each flavour to take home.
Admittedly, I know we have barely scratched the surface of Vigan or rather, Ilocos' food scene. Despite that, I've personally found each dish very delicious and wouldn't mind going back to Ilocos to taste more!
Have you been to Ilocos and tried some of these dishes? Or maybe have bought some 'pasalubong' with you? If yes, perhaps you have some interesting things to share with our readers.. Comment below.. We'd love to hear from you!
Like This Post? Pin It!