Have you ever been to a place wherein you did not expect much prior to the trip but when you were there it amazed you?
Well, that's what exactly happened to me when we visited the Twin Crater Lakes in Negros Oriental.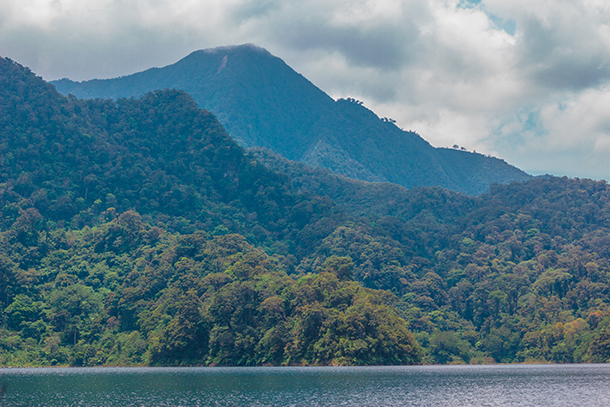 It's a beautiful work of nature that is often overlooked by people passing through Negros Oriental and Dumaguete City (which is usually the gateway to Negros).
Tucked away in the mountains of Sibulan, the Twin Lakes is a wonderful oasis that provides a peaceful and relaxing ambiance. For those who loves the quiet and nature, a visit to these two (2) lakes will surely guarantee you that!
The twin crater lakes (Balinsasayao and Danao) are situated 1,000 ft above sea level. One of the interesting thing about it is that when you are there, it doesn't feel like your on top of a mountain. All you'll see trees and the tranquil lake.
I've heard several things about the Twin Crater Lakes in Negros Oriental before but I never paid much attention to it. But when my sister visited the lakes during her college field trip and had nothing but good things to say, my interest peaked.
Admittedly, Lake Balinsasayao and Lake Danao is often overshadowed by Negros Oriental's more popular attractions including Apo Island, Manjuyod Sandbar, Casaroro Falls and Pulangbato Falls. Personally, I really couldn't blame them as a people on vacation would definitely prefer the beach and anything that involves swimming over nature tripping.
I, on the other hand, was pretty much happy that we've decided to push through with visiting the twin lakes. My husband and I were contented with our trip to this gorgeous bit of nature in Sibulan during our 3-day visit to Dumaguete. Truth be told, I was glad my husband did like it as I know he can be pretty much opinionated with places that we visit. LOL.
How to Get to the Twin Lakes in Sibulan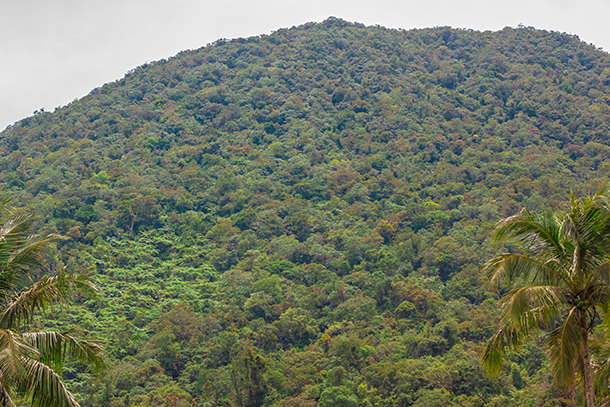 From Dumaguete City, take the bus going to Manjuyod, Kanlaon or Bais from the Ceres Terminal. Or you can simply ask the bus operator if they're passing through San Jose. The ride is about 30-40 minutes. Similarly, you can also take the jeep going to San Jose from the city.
Fare for the bus is at 15 Php, while for the jeepney its 13 Php per person. Travel time is around the same time also.
There are motorcycles in Dumaguete that are willing to take passengers to the twin lakes from the city but it's far more expensive with price starting at 300 Php up to San Jose only. It was a no go for us so we decided to take the tricycle to the bus terminal.
Alight at either Calo or at the Jal-Anan Junction or Twin Lakes Crossing. You needn't worry as there is a signage along the road so that you won't miss it.
We stopped at Calo (the bus ticketing officer dropped us off this area) and pointed us to the area where the habal-habal (local term for motorcycles) were parked. A man immediately approached us and guided us to the drivers waiting in line for tourists.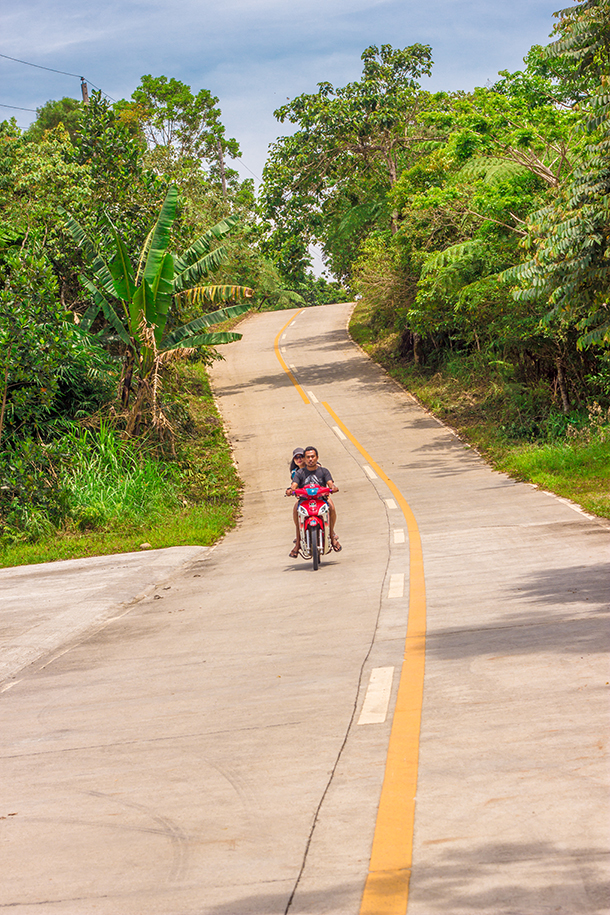 The habal-habal can take up as much as two (2) persons excluding the driver. Since there was just the two (2) of us, we just hired one (1) to take us to the lakes.
Price per head is at 150 Php (2.87 USD) – that's just for one way only. Total price is at 300 Php (5.73 USD) for the entire duration. The driver will wait for you until you are done and ready to head home.
Please take note that there are no other public transportation option from the Twin Lake Crossing to the Lakes. So if you wish to Do It Yourself (DIY) like we did, you can follow the steps given or simply rent a motorcycle in Dumaguete and find your way through the map.
Alternatively, there are tours that you can look into including this Manjuyod Sandbar and Twin Lakes Tour.
From Calo, it's another 30-minute (or more) travel time from the terminal to the entrance of Lake Balinsasayao and Lake Danao.
The ride going to the Lake Balinsasayao and Lake Danao is pretty much scenic. You will be treated to views of the ocean and the mountains on either side.
Most of the road that we passed by are already concrete so there'll be no worries of a bumpy ride. Though just make sure to secure all your belongings with you including caps (I wore one) which may be blown by the wind as you pass by.
Balinsasayao Twin Lakes Natural Park Fees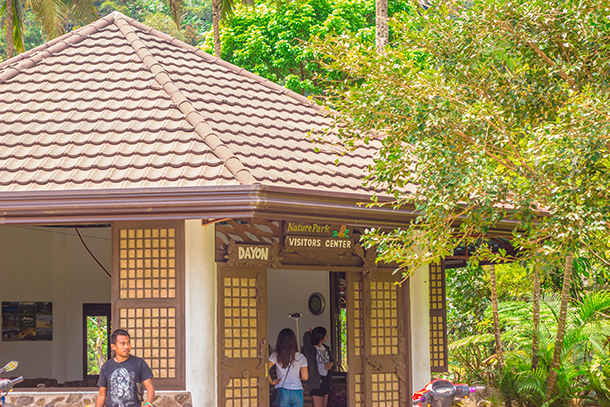 About a 5 minute ride from the lakes is a small concrete structure called the Nature Park Visitor Centre where you'll be paying for your entrance fees and register your names.
There is a sort of barrier on the road to prevent people from entering without paying first.
Like Kalanggaman Island, the entrance fee varies for locals from Negros, local tourists and foreigners. Please double check the existing rates before you pay. As local tourists, we were asked to pay an entrance fee of 50 Php (0.96 USD) per person.
If, like us, you have hired a habal-habal and you do not wish to walk all the way to the lakes from the entrance, then you'll have to add 32 Php (0.61 USD) for the driver and the motorcycle.
But if you prefer not to, you can hike/ walk all the way to the Twin Crater Lakes. It's a short walk – around 5-10 minutes depending on your pace. Just be warned though that it's pretty steep at some parts.
Once paid and registered, we were then allowed to enter.
The motorcycle that we hired refused to take us close to the Twin Crater Lakes at the same time because of the topography on the area. According to him, an accident happened previously when one motorcycle tried to drive through the area with two (2) of his passengers. Hence the reason why they are pretty much careful not to simultaneously carry two (2) passengers.
While waiting for my husband, I was able to take a look around.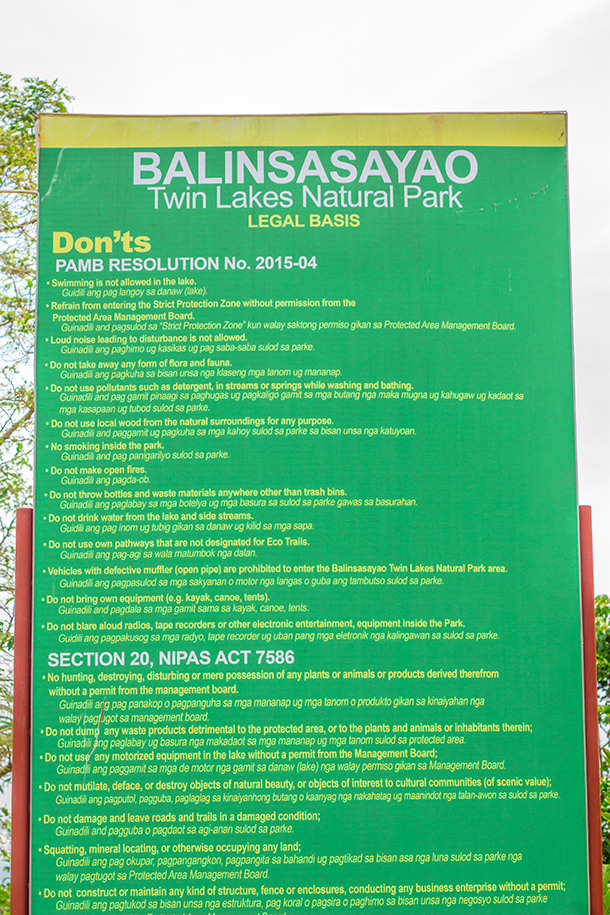 Aside from the office, there are large signs on the road for the Do's and Dont's when visiting the Twin Crater Lakes. This is a protected area under the Department of Environment and Natural Resources (DENR).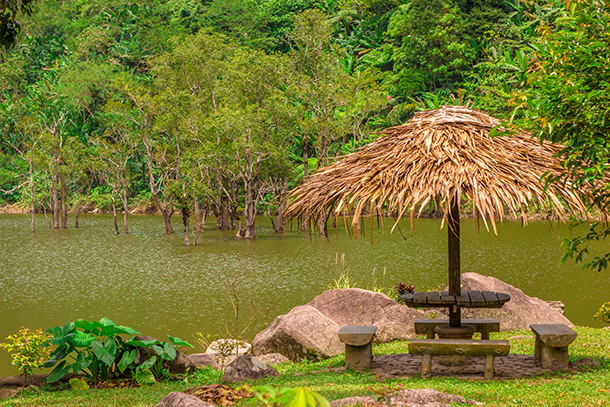 I also noticed a smaller lake on the other side of the road where a small cluster of trees stand at the centre. I found out later that the name of the lake was Lake Cabalen-An.
According to our guide this was an 'accidental' body of water that just became a lake over time. It has a pretty interesting story that I'd love for you to hear from the guide themselves when you visit Lake Balinsasayao and Lake Danao.
What To Expect At The Twin Crater Lakes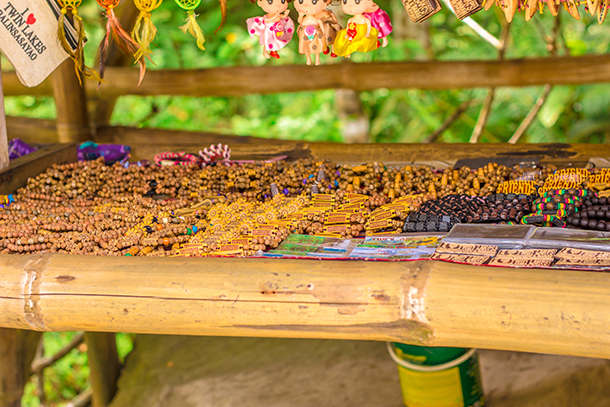 We were dropped off near the souvenir stalls. Vehicles are no longer allowed much further than that.
Nearby is the Nature Parks' restaurant if you wish to eat a meal or a snack. We, on the other hand, had a delicious meal at the Casablanca Restaurant earlier so we skipped it entirely and just proceeded directly to the lake.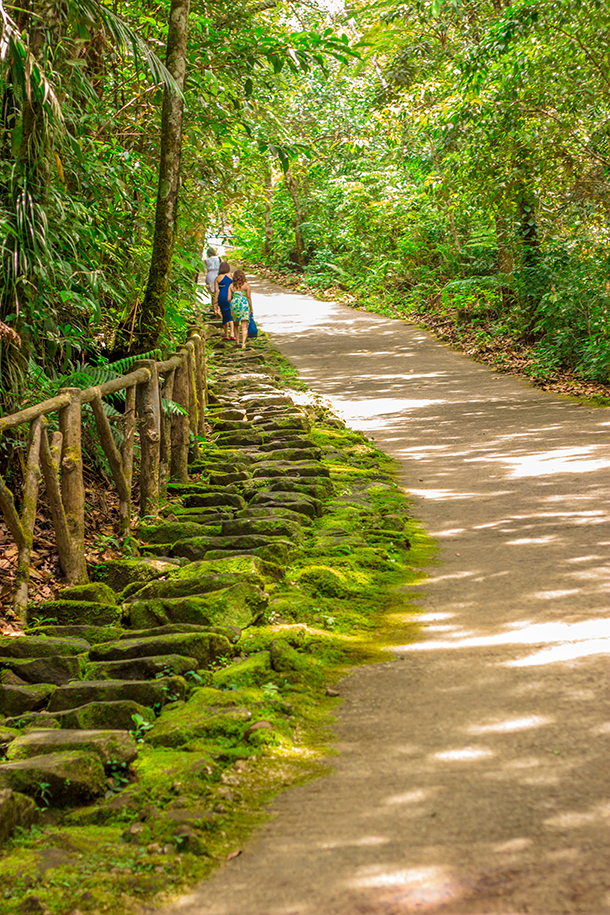 As we approached the lake, we noticed a change of air temperature. It was colder and definitely fresher. The path is steep here with trees on both sides of the road creating a cool shade from the sun.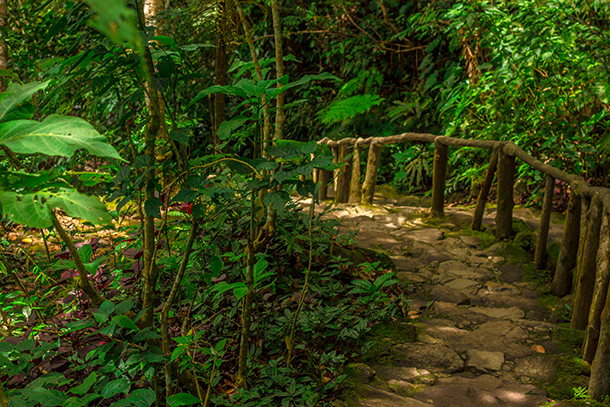 The path is also concrete up until you reach a fork on the road that'll lead you to a trail going to Lake Danao and the trail to the Lake Balinsasayao. From here, the path is made out of stones arranged to make a path with a handrail.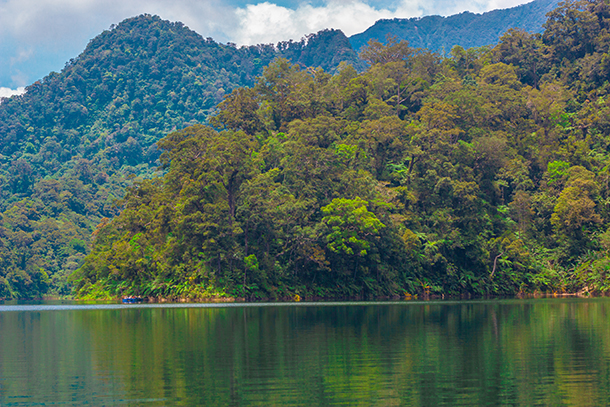 We moved towards the Lake Balinsasayao and was greeted with the tranquil green waters of the first lake.
There are a few cottages along the edge of Lake Balinsasayao that you can rent for a fee. Aside from this, boats are also available for those who wants to tour around Lake Balinsasayao. A boatman will accompany you and will also serve as your guide and take you around the lake. Kayaks are also available should you wish to paddle around by yourself.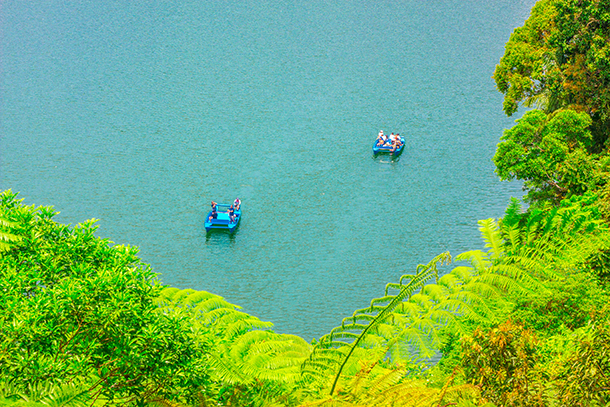 Since there were no kayaks available when we arrived, we opted to hire the boat. Fee was at 250 Php (4.78 USD) per hour. If you exceed, additional rates will apply.
The boat is good for a maximum of seven (7) persons so if you are with a group, this will be cheaper. It'll take you around Lake Balinsasayao and guide you towards the viewing area for Lake Danao – the second lake.
Personally, it was a more relaxing option than taking the trail to the viewing deck. We just came from Casaroro Falls the day before and if you've read my post about it, you'll know the challenging hike we just did. My legs were not really up for more climbing of stairs. LOL.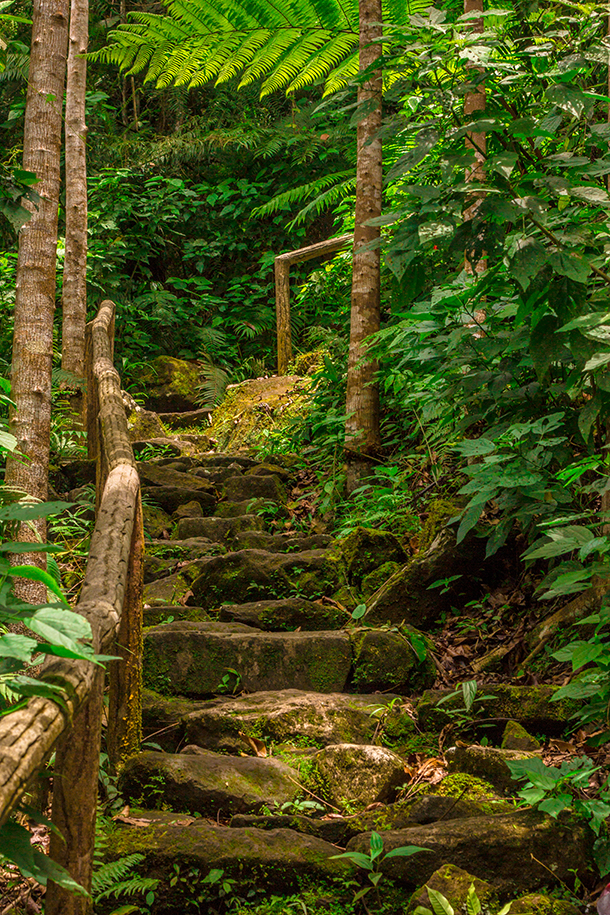 If you're interested, however, the trail going to Lake Danao is clearly marked. It'll take you around 25-30 minutes to reach the viewing deck. Again, depending on your pace.
Expect to see wildlife on some of these parts.
We saw a small snake just near the viewing deck on our way down. And since I'm not a fan of our slithering friends, I quickly got out of the way. At this point I was silently thanking my husband for suggesting that we take the boat. Otherwise the chances of more snake encounters would've been probably higher if we tried the trail instead. LOL.
Back to our Boat then.. 🙂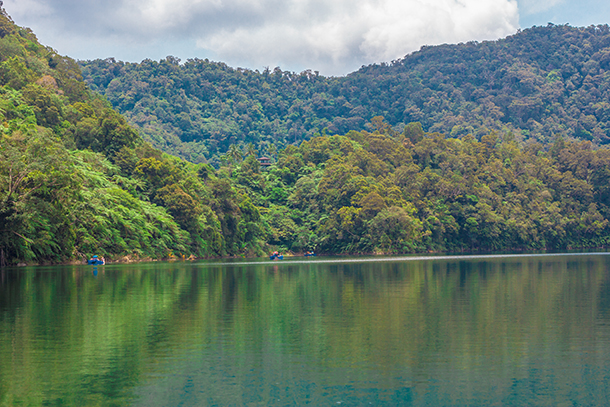 You have the option to go to the Viewing Deck first or tour around Balinsasayao Lake. We opted to tour around the lake first before the viewing deck.
We spent around 30 minutes gliding along the Balinsasayao Lake. It's green vegetation and the calm waters was very relaxing. The guide who took us around was very entertaining too as he gave us plenty of information about the lake and its history.
I wouldn't want to bore you about all of this amazing facts, however. It'll take away the fun of learning new stuff from the local guide than just reading it here.
I did asked him about tours/ studies that are sometimes being held here by students from some universities in the Philippines. According to him, the studies are usually conducted at the Lake Cabalen-An as swimming at the Balinsasayao Lake and Danao Lake is prohibited.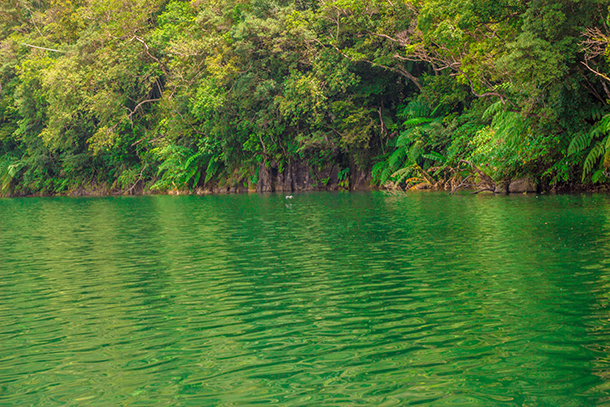 Why you might ask? Well, aside from safety reasons it might also destroy the natural vegetation if guests are being too careless. Personally, this policy is great to hear as it will be a shame to destroy such beauty.
The guide took us around areas where the vegetation is thicker and the place more peaceful. We were fortunate enough to have spotted a baby heron near the edge as we were passing along.
Finally, we reached the docking area for the Viewing Deck. We had to climb another set of stairs to reach the viewing deck. It was just a less than 5-minute walk. You'll reach another fork on the trail that'll give you the option to go near the Danao Lake or go straight to the Viewing Deck.
We chose to see the Danao Lake and Balinsasayao Lake at once so we skipped the former.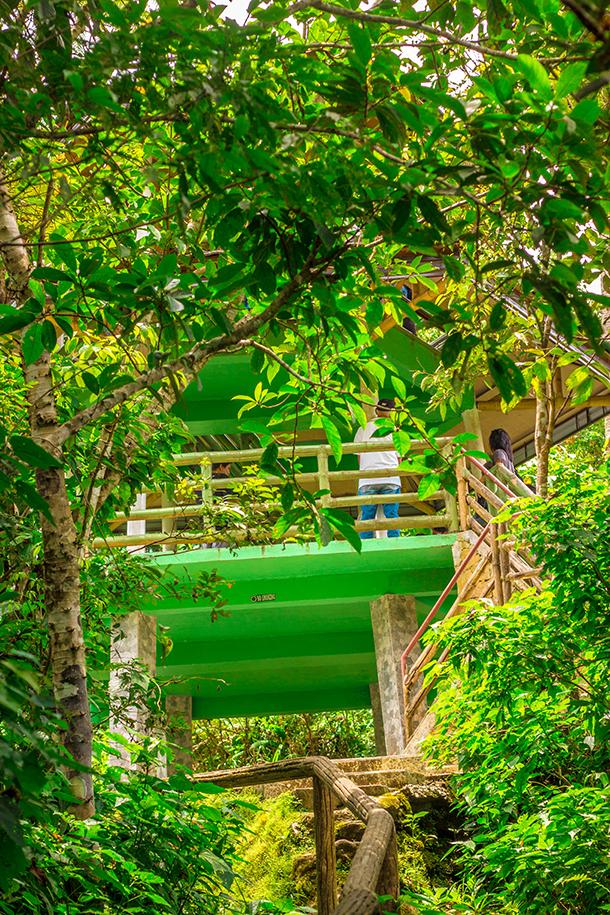 The Viewing Deck is a 2-floor concrete structure built in between trees and on an elevated area that'll give you a glimpse of the two lakes.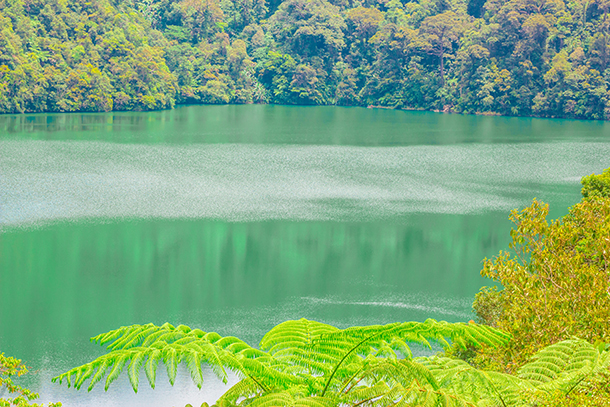 Lake Danao is much smaller than Lake Balinsasayao but equally as tranquil and as beautiful. There are no boats or kayaks that can be seen floating here. Just nature at its best.
As per our guide, the staff at the Balinsasayao Twin Lakes Natural Park often bring their kayaks with them to Lake Danao to check the lake and ensure that everything is alright.
Funnily enough, we thoroughly enjoyed the view that we forgot to check the time. Finally realising that it was time to get back on board it was already past our 1 hour allowed time.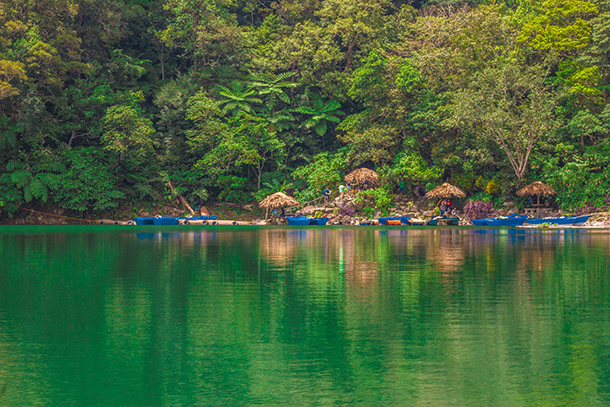 We got back on the boat and went back to the Balinsasayao Lake docking area.
Because we have extended our time, we paid a total of 375 Php (7.17 USD) for the entire trip. Not bad considering that we have enjoyed every moment of the tour around the twin crater lakes.
Contented with our time, we headed back to the parking area where our driver was waiting for us.
It was already 1 PM when we left Balinsasayao Twin Lakes Natural Park. When we arrived at Calo, the buses were already full. Thankfully, there were jeepneys available for us to ride on.
Things To Do at the Balinsasayao Twin Lakes Natural Park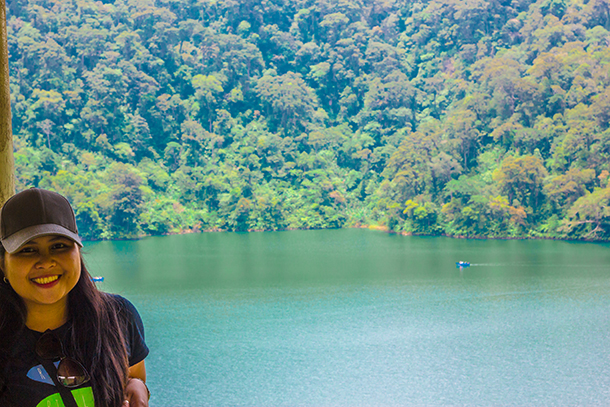 In general, here are some of the things that visitors can do while visiting the Balinsasayao Twin Lakes Natural Park Things are the following:
1. Birdwatching
2. Kayaking
3. Wildlife and Landscape Photography
4. Trekking
Twin Crater Lakes Travel Tips:</Things To Do>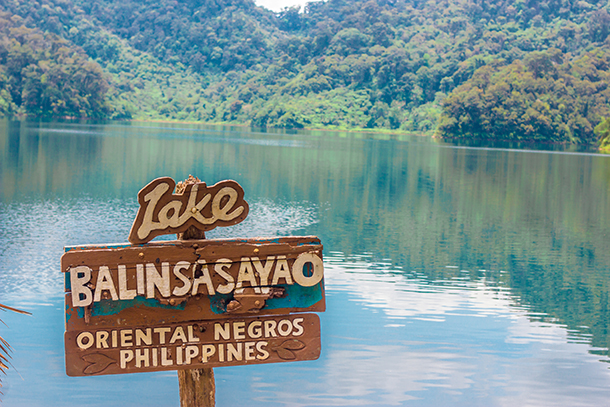 1. Best time to visit the Twin Crater Lakes is around September when the orchids are in full bloom.
2. As per our guide at the lake, there are other areas where you can hire a habal-habal, but most often than not, the prices are much more higher. It is recommended to hire a motorcycle at the Twin Lakes Crossing or at Calo (like we did).
3. Be mindful of your trash. There are several boards at the base of the Twin Crater Lakes entrance and near the parking lot for the Dos and Don'ts. Please take the time to read them.
4. You can get a pamphlet at the nearest Tourism Office at the Quezon Park in Dumaguete for details of the park and other tourist attractions near Dumaguete. This way, you'll be aware of the prices.
Like this post? Pin it!