Have you visited the Royal Tyrrell Museum in Alberta?
Who doesn't love a good dinosaur story especially when we were young? Weren't we all just breathless imagining how gigantic they were? Or maybe terrified of the thought that they may just be back and will devour us anytime?
A glimpse of this amazing creatures (or what remains of them) is possible if you visit the Royal Tyrrell Museum in Alberta, Canada.
How to Get to the Royal Tyrrell Museum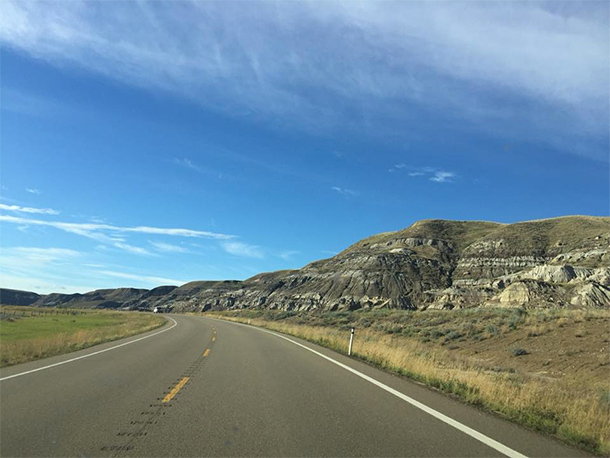 The Royal Tyrrell Museum is located at the Canadian Badlands, specifically at the Midland Provincial Park in Alberta. Its about 6 km northwest of Drumheller.
If you are driving by car, time will vary depending on the distance. You may check this map for your reference. Our basis on the starting point in the map is Calgary (where my sister and her husband lives). Travel time from Calgary is approximately 1 hour and 30 minutes.
What to Expect at the Royal Tyrrell Museum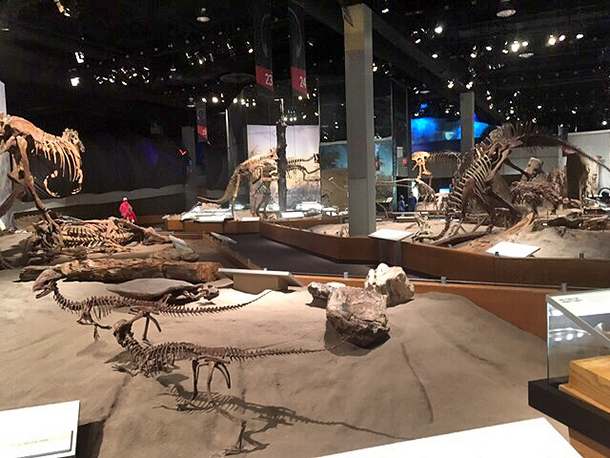 The museum is opened all-year round and is home to over 130,000 fossils and 40 complete dinosaur skeletons. Royal Tyrrell Museum is considered to be Canada's only museum dedicated exclusively to palaeontology.
If you or or your little kids enjoy learning about these amazing creatures, then you will surely love to spend a day here.
If you are passing through and would love to explore of Alberta, allot at least 2-3 hours of your time to fully enjoy the experience
Royal Tyrrell Museum Exhibits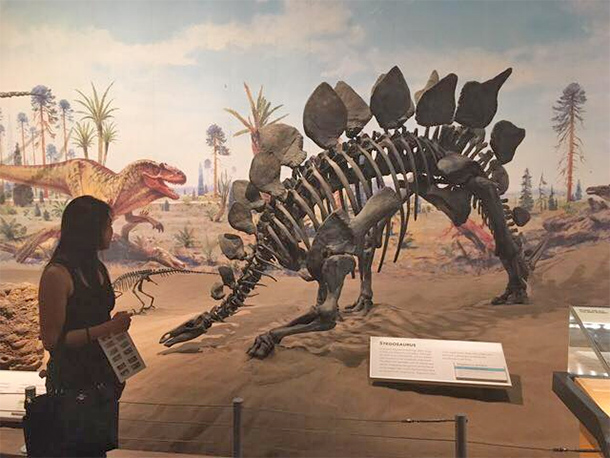 The museum has several exhibits that you can enjoy including the following:
Grounds of Discovery
Discover and explore stories on the unearthing of exceptional specimens as a result of the museum's collaboration with numerous industries such as mining, wind turbine development, oil and gas, and housing and road construction. The world's best preserved armored dinosaur, Borealopelta, and other new discoveries.
Foundations
Foundations offer an introduction to the key subject and objective of the science of paleontology. The exhibit features more than 90 specimens, specifically chosen to amplify the story of life on Earth.
Its innovative techniques and technologies further prompts visitors to understand the development of life, evolution, geology, fossilization, and Alberta's role in the paleontological record.
Fossils in Focus
Fossils in Focus feature a rotating exhibit of some of the most remarkable and significant specimens. On this as well, only a fraction of the Museums' thousands of fossils is on display.
Cretaceous Garden
Cretaceous-Alberta was dominated by dinosaurs and other prehistoric animals lived in coastal environment dotted with swamps, marshes, and ponds. In the Cretaceous Garden allows its visitors to experience the environment of Alberta during the Cretaceous Period and see Canada's largest collection of prehistoric plant species.
Terrestrial Palaeozoic
The Terrestrial Palaeozoic exhibit introduces visitors to the significant evolutionary changes of plants and animals — particularly amphibians and insects — during the Palaeozoic Era. Visitors will gain understanding on how plants and animals moved from the seas to the dry land, thereby, gradually changing the barren landscape to a lush one.
Cretaceous Alberta
Cretaceous Alberta exhibit offer a glimpse of Alberta more than 69 million years ago. The exhibit is based on scientific evidence gathered from mass graves or bonebeds, discovering at least 22 skeletons of Albertosaurus sarcophagus . Hence, it features said prehistoric dinosaur moving across a channel of dry river.
Preparation Lab
Museum technicians join paleontologists out in the field of Alberta to search for fossils. They bring their discoveries to the preparation lab where they allow visitors to watch Museums technicians prepare the fossils for research and display.
Burgess Shale
This exhibit is a colorful display of 46 creatures from the Burgess Shale which one of the most important fossil resources ever discovered. Visitors are able to indulge in a 505-million-year old underwater world.
Devonian Reef
The Devonian Reef exhibit features thousands of life-like models of living things, recreating magnificent and colorful diversity of the prehistoric underwater world that was once Alberta. As during the Devonian Period, Alberta was covered in tropical sea, and giant marine reefs and millions of microscopic marine animals proliferated.
Dinosaur Hall
The Dinosaur Hall has one of the world's largest displays of dinosaur skeletons. Visitors will see just how huge were these once dominant animals in the planet. The Hall boasts of variety of dinosaurs that will excite every dinosaur enthusiast.
Triassic Giant
The exhibit features the world's largest marine reptile Shonisaurus sikanniensis . It was discovered in the early 1990s but took three field sessions from 1999 to 2001 to excavate this "Triassic Giant". This exhibit is also a special tribute to the Museum's former curator of marine reptiles, Dr. Elizabeth Nicholls, who had taken the challenge with her crew to unearth this amazing animal.
Mammal Hall
The Mammal Hall introduces its visitors to the evolutionary changes in the Earth's landscape as mammals began to take over. This was during the most recent era, the Cenozoic Era, where continents drifted, and plants and animals began to shape into the world we see now.
Ice Age
The Ice Age exhibit shows its visitors how the world was different two million years ago. Much like that movie franchise, the Northern Hemisphere was vastly covered in ice and animals like the giant mammoths, bison, and saber-toothed tiger roamed the earth.
Royal Tyrrell Museum Amenities
Enjoy the museum and its fun amenities to make your stay more comfortable. Museum amenities includes free parking space, accessible museum exhibits and indoor programs for wheelchair and strollers, cafeteria, gift shop, picnic area and Badlands and trails.
Activities not to be Missed in and Around the Museum
Measure Up!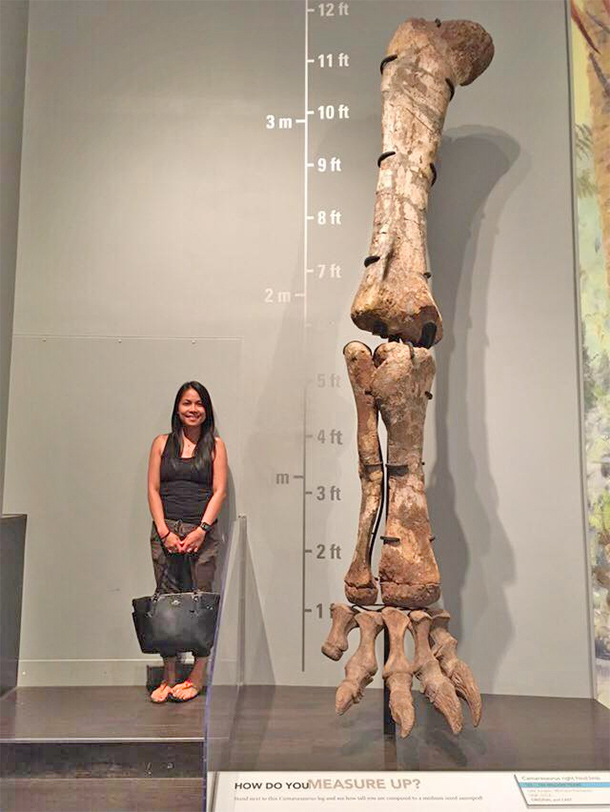 Are you tall or short enough? Measure your height compared to those of the dinosaur's… LEG.
Visit the Horseshoe Canyon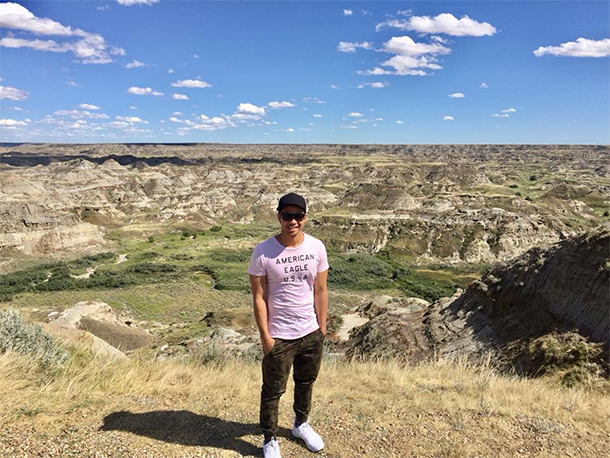 My sister and her husband visited the Horseshoe Canyon prior to visiting the Royal Tyrrell Museum for a bit of sightseeing and where they eventually had lunch too.
There is a viewing platform where you can see the gorgeous maroon-striped canyon walls on this side of the Canadian Badlands. The view will definitely take you back to the time where dinosaurs roamed freely.
Please beware of rattlesnakes in the area though. They found a couple hiding under the rocks but were harmless. There are warning signs at the park to inform guests so pls heed them!
Three (2) to five (5) minutes from the viewing platform is the tourist information center where you can book tours and grab a bite.
Climb the World's Largest Dinosaur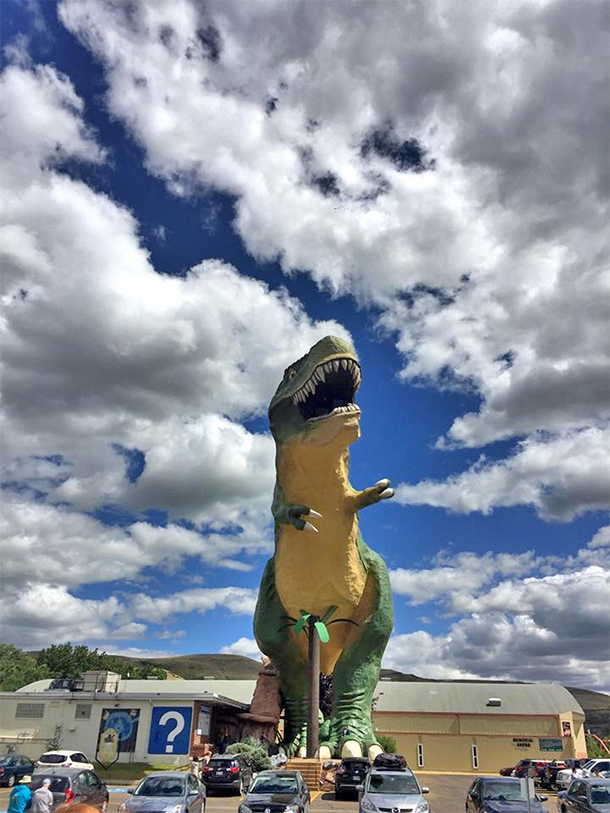 Climb over 100 steps and be rewarded with impressive views of Drumheller inside the World's Largest Dinosaur.
Have you explored the Royal Tyrrell Museum? I'm sure the kids will love it! Share your experience with us on the comments below!
Like This Post? Pin It!