Kalanggaman Island and Sambawan Island are only two (2) of the popular island near Leyte that has been attracting a lot of tourists – locals and foreigners alike.
If you've been there or you've seen some photos of both islands, I'm pretty sure you'd understand why.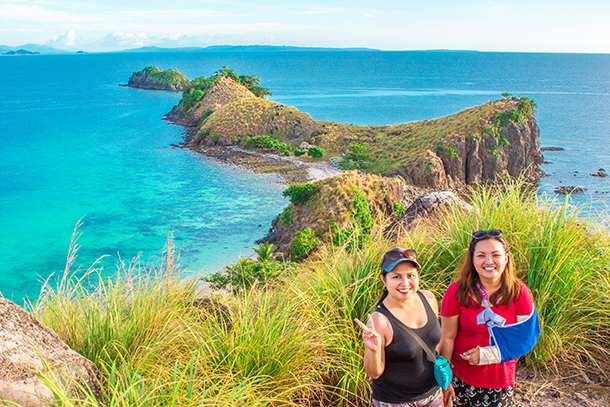 A friend of mine had an event planned to visit Sambawan Island and Kalanggaman Island with a group of people from work. Since my husband and I were both free, we've decided to tag along on our first formal travel with LUDIFY Trips.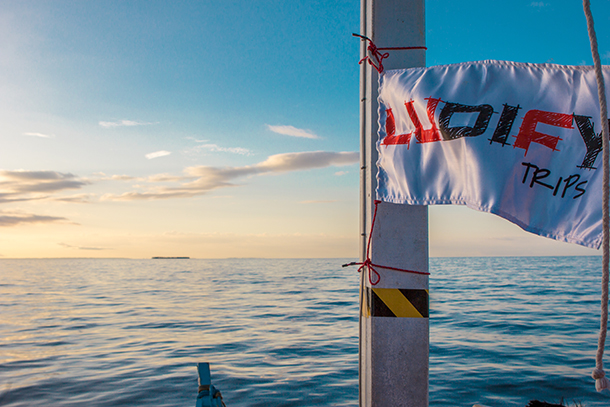 What is LUDIFY Trips
LUDIFY is a brother-sister duo that my friend and her brother established to help people plan events and make various crafts.
They've been organising events for a while now, including our trips with friends in Puerto Princesa, Davao, Ilocos, Camiguin and our recent trip in Hongkong and Macau.
Sambawan Island and Kalanggaman Island Itinerary
Day 1: Sambawan Island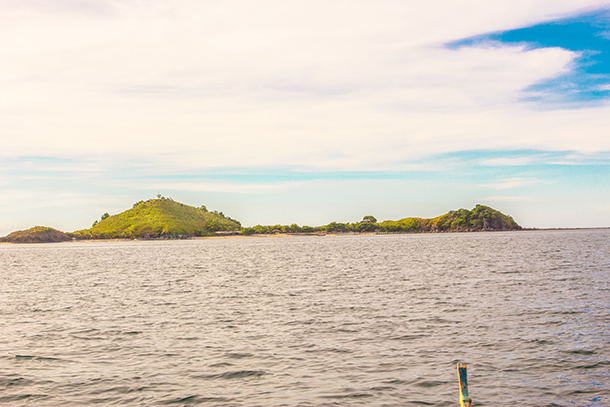 The trip to Sambawan Island and Kalanggaman was set on a long weekend. Most of the group flew in from Manila to Tacloban. We were based in Cebu so we took the early morning fastcraft from Cebu to Ormoc.
Fortunately, the trip was uneventful and I mostly slept through it. When I woke up, we were already docking at the Ormoc Port.
After grabbing a quick breakfast at a local fast food chain, we went to the terminal to board either a van or a bus going to Biliran – whichever was available.
Our friend and the rest of the group have already arrived in Tacloban and are on their way to pick us up at Lemon. It's a barangay in the municipality of Capoocan in Leyte that is a common stop-over for vans and buses.
The terminal in Ormoc is pretty easy to navigate as there are signages on the ceiling of the terminal. We were able to take a van going to Naval with fare at 100 Php.
After paying our fare we then settled down on our seat for the 1-hour drive.
We arrived at Lemon at around 11 AM. There was another local fast food chain near the area which was incidentally our meet-up point.
In less than an hour, our friend and their group arrived. Everyone eventually settled down to order lunch.
By 1PM, when everyone was full and sated, we joined the rest of the group in the van and settled down for another hour and a half travel time to Biliran.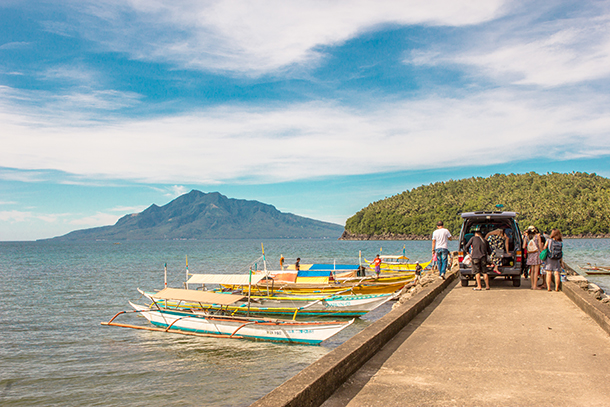 Upon our arrival at the port, we were directed to the boats that will eventually take us to Sambawan Island.
The outrigger boats were small compared to those that I'm used to for boat transfer. Like in our trip to the Underground River in Puerto Princesa and even our small pumpboat going to Mantinique or White Island in Camiguin. It was pretty cramped and if you are claustrophobic, that'll be a slight problem.
I find opening the flap a bit to let the air in helped a lot. I have a tendency to be claustrophobic so I learn to find ways to fight it when I travel.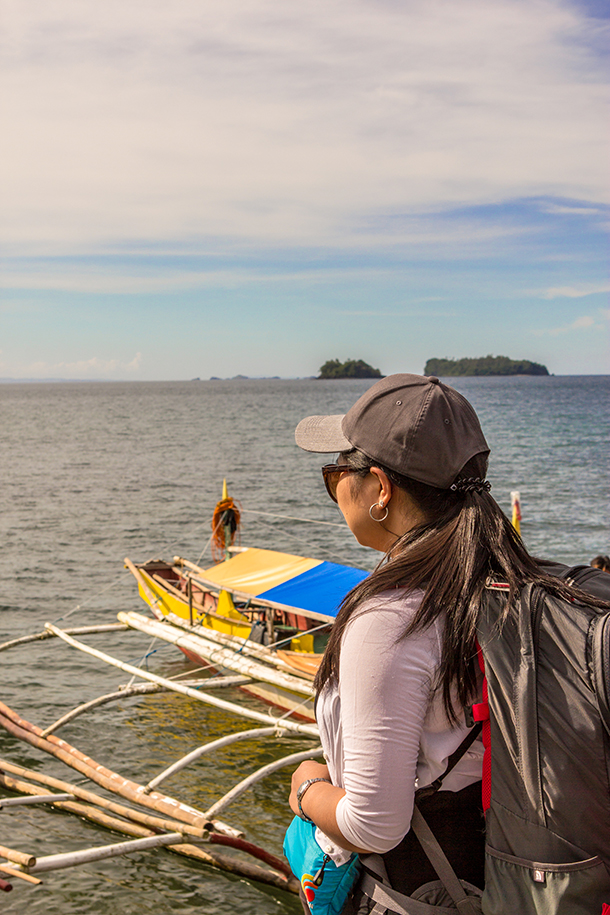 Our things were arranged first inside and in no time, we were assisted on board.
Fortunately, the weather was cooperative and we did not encounter any big waves on our way to the island.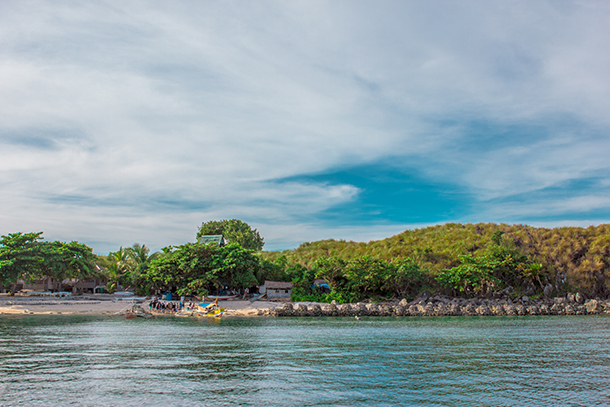 It took us more than an hour to reach Sambawan Island. When we arrived there it was late in the afternoon but it gave us plenty of opportunity to explore the island and enjoy it.
You can check out our Sambawan Island travel guide on this post on the things to do, amenities available and travel tips to make your stay a pleasant one.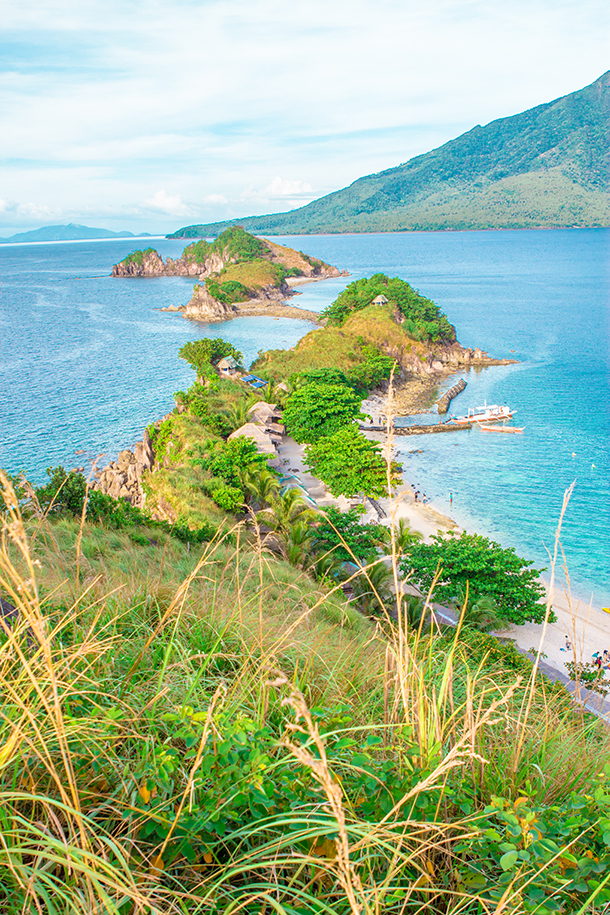 Most of our group hiked to the top of the hill to get a better view of the island. The view is mesmerising and will take your breath away.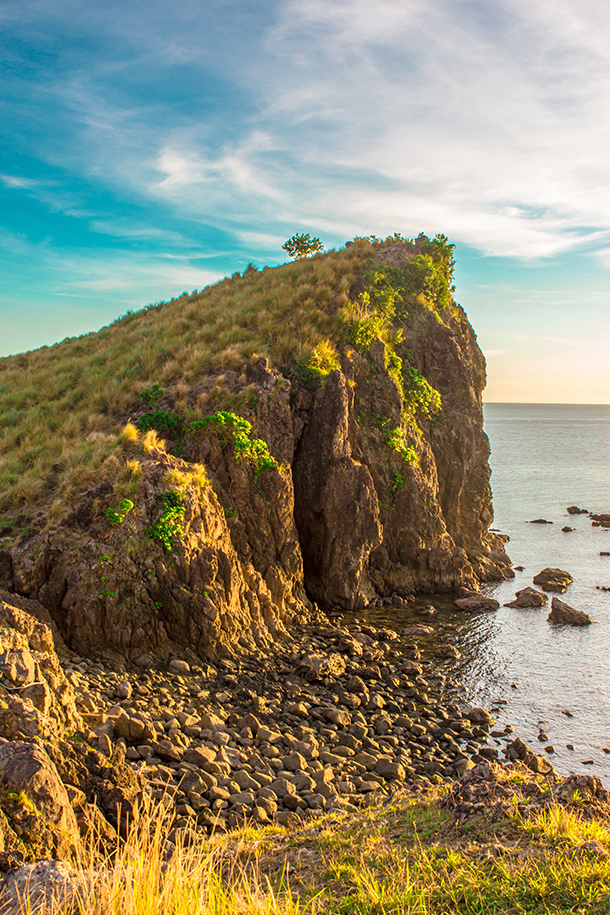 My husband and I ventured a bit farther and climbed the adjoining hill on the other side of the main island. The views here are as spectacular as the first was, with the golden hour bathing the surrounding.
Night time came and soon we were sharing our dinner with the rest of the group. My husband and I spent a few hours just stargazing after dinner and it was delightful!
Day 2: Kalanggaman Island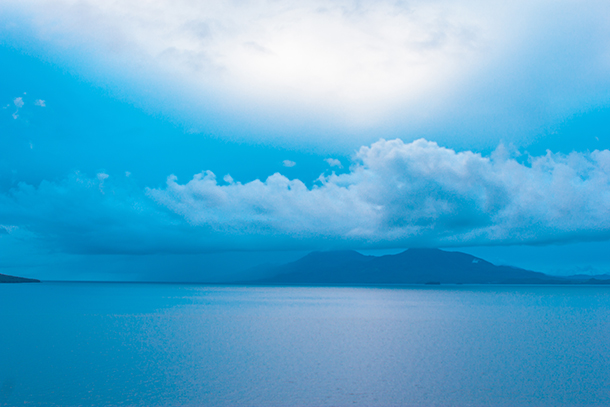 On the second day, we woke up before dawn as we wanted to capture the sunrise at the hill.
Unfortunately, it was gloomy with no sign of the sun peeking behind the clouds. Despite that, my husband gamely accompanied me to the top of the hill just because. 🙂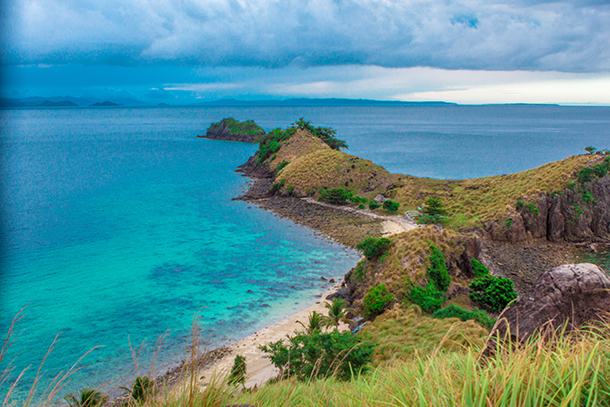 We momentarily had the place to ourselves and it was delightful. A few minutes of peace and quiet and we finally went back to our group as breakfast was already being served.
We were supposed to leave at around 7AM but due to the weather condition, our guides decided wait out the weather and to leave at 9:30 AM. It was fine by me as I didn't want to be at the middle of the sea with rough waves.
Actually, by the time we left it was already drizzling and we were anticipating some rough sea conditions.
Fortunately for us, the sea was calmer than we expected and we sailed along without any incident.
We arrived at the Cawayan Port past 10 AM where, thankfully, the vans were already waiting for us. We were a bit soaked by then as the rain was coming in heavier. After a quick rest room break, we hurriedly went in to the van for the ride to Palompon.
Travel time to Palompon is around 3 hours. We stopped for lunch, however, along the way as it was already past noon.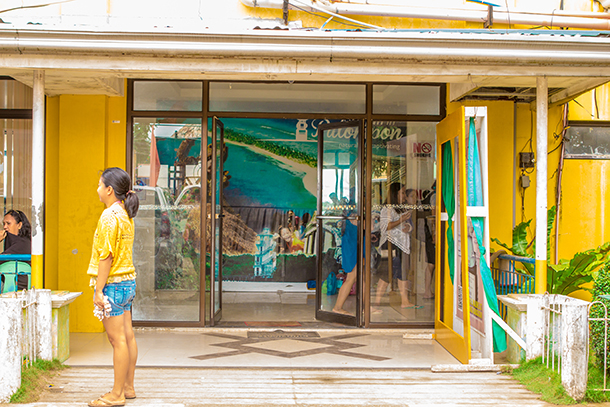 We arrived in Palompon at around 3PM and immediately registered at the front desk. There was a problem of some sort during our registration as we were a bit late of our scheduled time.
Thankfully, my friend from LUDIFY was able to negotiate with the officer at the front desk and the boat man. You can read more about our trip to Kalanggaman Island on this post here.
I've included a quick backstory of our experience including the fees, accommodations available, amenities, travel tips and reasons why you need to visit.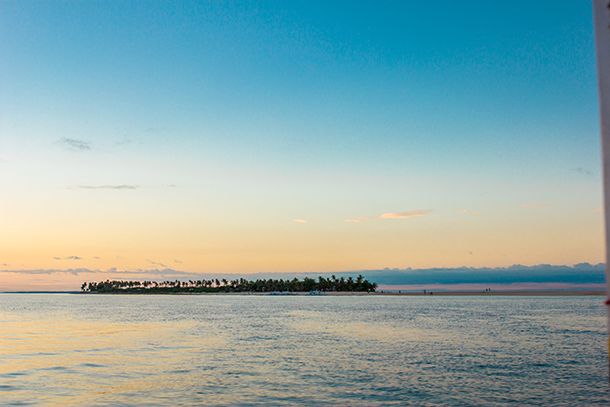 We arrived in Kalanggaman Island at around 6PM. By the time we were ready to pitch the tent, we had barely enough light. LOL. This was still cool though as we were no longer at a rush.
When dinner was served, everyone had their assigned tent ready and were just lazily enjoying the night.
After a tasty dinner, I was able to sneak some alone time and went to explore the sandbar that Kalanggaman Island is famous for.
Admittedly, there were no lights here but I came prepared as I had my trusty headlamp with me. It was pretty cool walking along the shoreline with just the sound of the waves lapping against the shore nearby.
I also got a few minutes stargazing along the shore near our campsite. The stars were pretty bright by then and I got to enjoy it alone.
Day 3: Homebound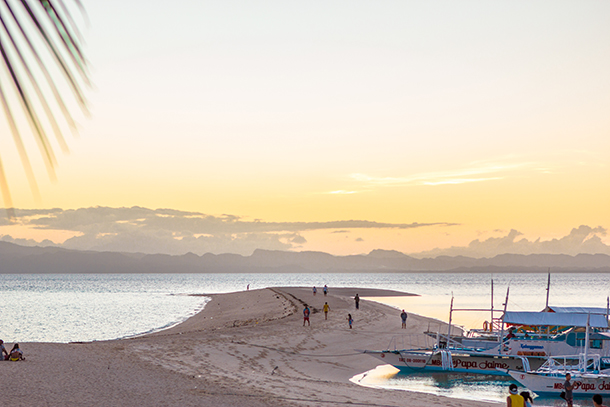 Morning came bright and early and we were pretty much hoping for a clearer sky. My husband and I were up and ready by 5:30 AM and went out to catch the sunrise from the sandbar.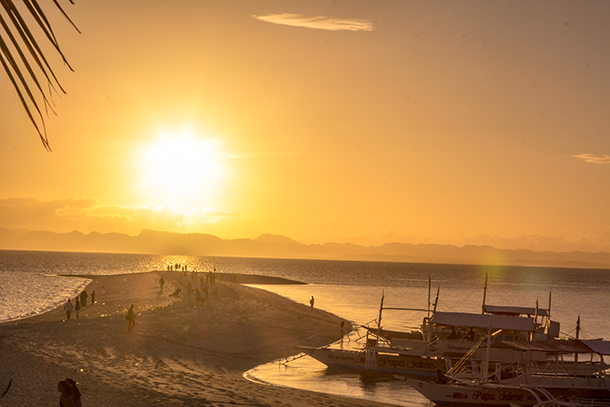 Fortunately, we were lucky and got a chance to enjoy it and at the same time capture some amazing shots.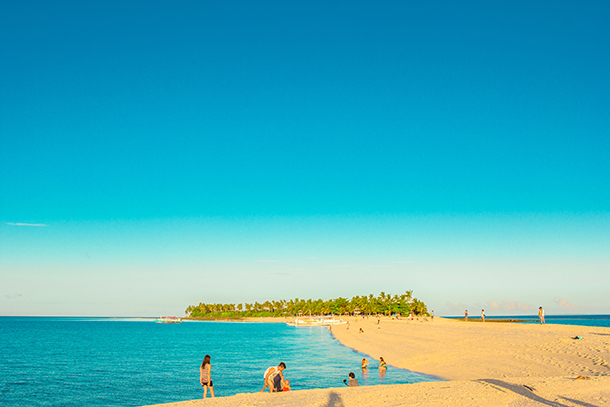 Satisfied with the outcome, we lazily enjoyed the sandbar and got a few snaps here too.
By 7:30AM, we were back at the campsite to collect our things and prepare for the trip back to the mainland. We were to accompany the first group who were heading out by 9AM.
Breakfast was a happy event where everyone was enjoying a few laughs of the events the night before. After the meal, our group finally bid goodbye to the rest of the group.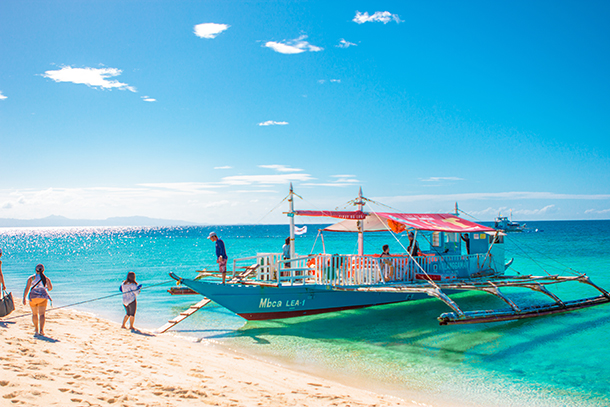 Our boat was right on time and was waiting for us near the sandbar. A few minutes of preparing and we're bidding goodbye to this small piece of paradise that is Kalanggaman Island.
Have you been to this part of the Philippines?
Like This Post? Pin It!